This guy exploding a Peep with potassium chlorate is exactly what we needed today
Are you all ready for Easter? The big holiday is this Sunday. And, what better way to celebrate than with a video of a guy blowing some Peeps up with potassium chlorate? If that sentence took you right back to high school chemistry class (or at least an episode of Bill Nye the Science Guy) you're not alone.
Sadly, Bill Nye isn't the one with the fiery Peeps. But Grant Thompson, also known on YouTube as "The King of Random," is a solid choice instead. In the video experiment, Thompson melted down potassium chlorate that he got from a pyrotechnics store. Uploaded just yesterday, the video already has well over 661k views.
https://www.youtube.com/watch?v=UdhHUwPMbg0?feature=oembed
We love the fact that Thompson chose a few different varieties of Peeps. Not only did he use a few new flavors to help celebrate Easter 2017, but he put a few fun "traditional" Peeps in there. They didn't change his experiments, but they definitely made the experiments a little more colorful.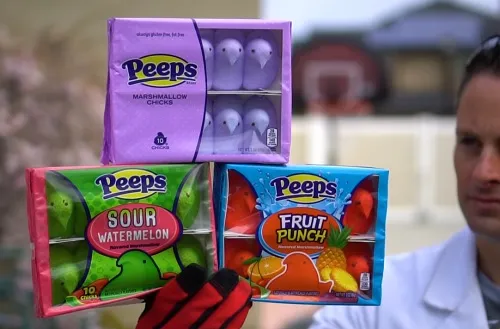 For the first experiment, Thompson melted down the potassium chlorate, which looked a little bit like powdered sugar, up to 700 degrees Fahrenheit.
When the chlorate was molten, Thompson transferred it into a glass — which he, himself, was a little worried about. Remember, kids — when it comes to melting Peeps in fiery chemicals, you always want to put safety first.
When Thompson melts the first Peep, it's definitely a sight to see.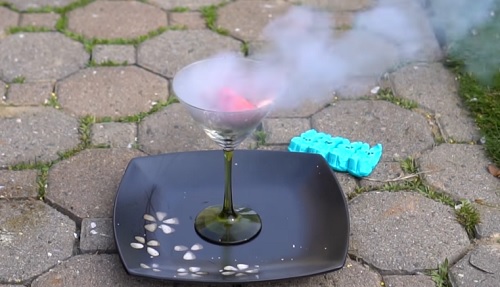 I can't believe how quickly that took off. That was like, instant reaction," Thompson said. "Just burst right into flames, like, the second it made contact.
From there, he tries it again — and breaks a lot of glass in the process.
While we prefer to eat our Peeps — and not blow them up until they turn to ash — we can definitely appreciate Thompson's fun approach to science. It just goes to show that even as adults, we're learning something new every day.