14 of the best experience gifts you can give your partner that are far from boring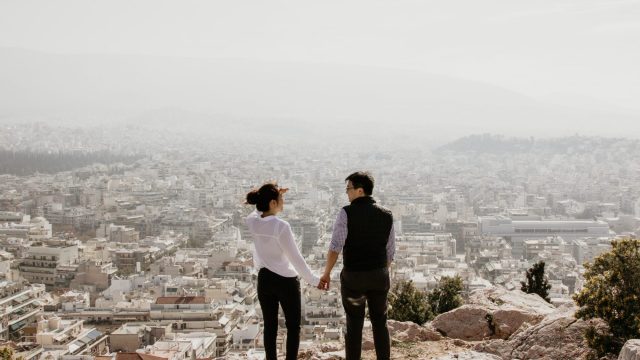 If cuffing season has landed you a significant other, it's already time to start thinking about the next steps. No, not marriage—we're talking holiday gifts. This can be stressful, especially if your partner isn't overtly obvious about what they want. Or, maybe, you've been together for so long that there's nothing left to buy. Luckily, you can give an experience gift instead. Because while you could replace those iPhone earbuds you gave them last year that they've already lost—honestly, where's the fun in that?
But why skip the mall entirely? Well, there's actually a psychological explanation for this called "hedonic adaptation," which means the initial excitement of a new material object will quickly fade over time. So there's a guarantee that experience gifts will bring greater happiness than any material object could. But if you're not sure which present to choose, we found the best experience gifts you can give, no matter where you live in the country.
Here are the best experience gifts you can buy for your loved ones.
For the foodie:
Pop-up Dining: There are tons of unique dining experiences that you can share with your loved one. Pop-ups are having a moment, and they're not like anything you've ever seen before. If you're in L.A., check out PopCultivate, which uses science to infuse cannabis into an unforgettable meal. Plus, Outstanding in the Field, a communal dinner party that brings new meaning to farm-to-table, has pop-ups all over the country.
Cooking Classes: You can also be playful with your S.O. at a cooking class to make something way tastier than your usual weeknight chicken. Many Williams Sonoma stores have cooking studios, and who knows? You may even invest in a new Instant Pot to up your at-home dinner game. And if you live in Brooklyn, Cook Space not only offers ad-hoc classes, but it's also a culinary school for the home cook with five five-week culinary classes to choose from. 
At-Home Meal: If you already have a few kitchen skills under your apron, turn your place into a restaurant. Set the table, print photos of the two of you to use as decor, and create a playlist of songs that remind you of your times together. If your partner has a particular favorite food from their hometown or college, look to see if it's possible to get it delivered. Goldbelly is a company that offers delivery on food favorites from all over the country.
For the adventure-seeker:
Airbnb Experiences: Multiple studies have found the link between physical arousal and sexual attraction, so expect some serious post-adventure fun. Here's another type of adventure: going outside your comfort zone. Airbnb Experiences offers adventures you probably never knew you wanted, like this three-day trip to Indiana's Amish Country, or off-roading in a Jeep 4×4 in the Georgia Mountains. We can only imagine the stories you'll have, or the great photo of your partner churning butter. 
A Sensual Audio Subscription: For those who prefer their adventures in the bedroom, consider a subscription to Dispea, which offers a year of sensual audio stories, but more importantly, guided intimate adventures, for both of you to experience together directly from your (or your partner's phone). If you want the ultimate upgrade, you can also purchase the Dipsea Holiday Gift Package, which includes a limited-edition cheeky door hanger and a selection of to/from cards in addition to the year subscription to the Dipsea app.
For the wellness-lover:
Upgraded Gym Membership: If your partner is a gym rat, show them a new side of things with Upgrade Labs. Currently located in L.A., this biohacking gym is offering a "Hack Your Holidays" experience, which includes cryotherapy, a cold HIIT program (which promises quicker results in only 21 minutes), and a relaxation session in the skin-soothing, energy-boosting RedCharger.
Wellness Retreat: If you're ready to cash in your year-end bonus, treat your partner to a romantic couple's retreat at Woodlach Spa, which is just two hours from New York City. This all-inclusive wellness spa in Pennsylvania offers luxury accommodations alongside cooking demos, spa treatments, fitness classes, and everything else you'll need to renew your body and soul. We're particularly fond of the complimentary wine and couple's yoga book available in your room upon arrival.
For the arts-enthusiast:
Live Comedy or Music Tickets: Going to a concert or seeing a show that you know your partner will enjoy will express to them that you want to share in their interests. If Taylor Swift isn't performing any time soon, look for tickets at smaller, more intimate venues by using Sofar Sounds, which showcases new artists at unique venues across the country. You can also check out Goldstar for tons of discount tickets from theater to comedy shows in every city. And if you're looking to save a little extra cash (aren't we all?), download browser extensions like Honey, Coupon Cabin, or Rakuten, which can save you money when you purchase tickets online from Ticketmaster or StubHub.
A Sing-A-Long Feature: Nothing says true love like letting your significant other belt out their favorite songs in public. If they start singing Christmas carols the day after Halloween (and you live in the Chicago area), get them tickets to the 36th Annual Music Box Christmas Sing-A-Long and Double Feature, where two classic Christmas movies will be played along with many songs sung during intermission. You never know, it may become your new holiday tradition.
A Cocktail Theater Show: If you want to feel a part of the story, The Immersive Nutcracker Cocktail Fete in Los Angeles or New York will bring you into the Stahlbaum family home, which may lead to cocktail-induced dancing with the Sugar Plum Fairy at this hour-and-a-half interactive theater experience.
For the curious-minded:
Scavenger Hunt: Take your gift experience outside by giving your loved one a city-wide scavenger hunt. Companies like Let's Roam and ScavengerHunt.com that have self-guided scavenger hunts in hundreds of cities across the country. 
Escape Room: If your partner is the kind of person who loves to solve mysteries, then invite them to experience an escape room with you and a bunch of other strangers. For instance, Escape the Room has dozen of rooms to choose from across the country, where you have sixty minutes to solve all the puzzles in the room.
Mentalist Show: Let's say your partner doesn't want to explore the great outdoors or be immersed in a room full of clues. Then, you may want to take them to a mentalist show, where they can sit back and relax. If you live in New York, Derren Brown's Secret is a spell-binding show you don't want to miss. And with tickets starting at $49, you really have no excuse not to go.
For the neat-freak:
Organized Consultant: If your partner is one of those who meant to partake in Marie Kondo's decluttering method but just never got around to it, surprise them with the gift of organization. You can help organize their things yourself, or you can schedule a home-organizing session with one of Marie Kondo's consultants. 
The best part of giving the gift of an experience is that you benefit, too. Oh, wait, maybe that's not supposed to be the best part—but it certainly is a perk. Give the gift of an experience, and may this holiday season be your happiest yet.