It costs a CRAZY amount of money to get ready to walk the Oscars red carpet
Like a lot of movie-loving kids, I used to dream of attending the Oscars. While many of my childhood friends would discuss their dream wedding dress, I was deciding between whether I'd dress like Audrey Hepburn or Grace Kelly when my big awards show moment arrived. Well, after reading about the real cost of walking the red carpet, I'm a lot less excited.
E! Online asked celebrity stylists Lo VonRumpf and Ugo Mozie and branding expert Jeetendr Sehdev to put a price tag on each step taken on the 500-foot-long stretch of red carpet and the results are shocking.
According to the experts, for an A-list actress like our beloved Jennifer Lawrence, it can cost as much as $10 million to get ready for the Oscars. As E! points out, if "she walks 16 steps on the 500-foot-long red carpet…that's like $625,000 a step!" My God. And I thought weddings were expensive. Even a "first timer" will spend, according to E!, around $266,000.
Meanwhile, the guys' grooming generally involves fewer steps, but even one of their lower-maintenance ensembles, head to toe, can run up to $270,000.
"The Oscars are like a wedding day," explained VonRumpf. "It's such a huge moment in their lives and careers."
At least at most weddings, there are no paparazzi there to mock your dress choice. I'm starting to think my childhood playmates had the right idea.
For those of you wanting a visual representation of the expenditures, Lindsay Scheinberg at E! designed the illustration below: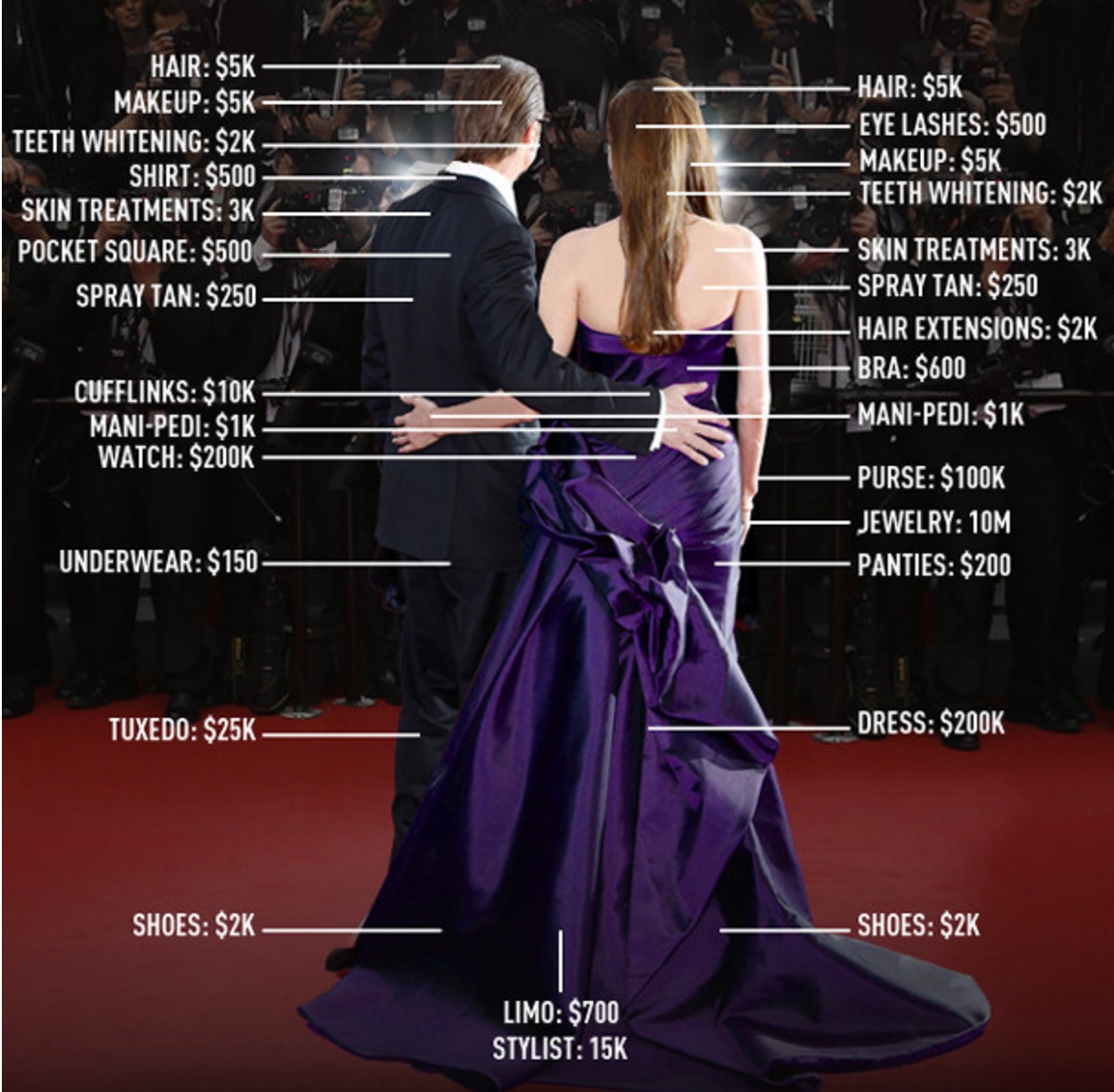 So, as we get ready to watch the red carpet and comment on our favorite celebrities' attire, keep in mind just how much they spent to look good for those few precious hours. Then again, we all know the value of feeling beautiful: It provides us with a much-needed confidence that, I bet, all nominees will need as they wait to hear the results.