Meet Russian figure skating partners and real-life couple Evgenia Tarasova and Vladimir Morozov
The 2018 Winter Olympics are upon us! Yesterday, February 8th, the team figure skating competition kicked off with incredible performances. And one of the pairs turning heads was the incredible Russian duo Evgenia Tarasova and Vladimir Morozov.
Tarasova and Morozov captured first place in the pairs short program portion of the team figure skating competition on February 8th. They were awarded a personal best score of 80.92. Canadians Meagan Duhamel and Eric Radford placed second, while the German team of Aliona Savchenko and Bruno Massot came in third.
The Russian pair has attracted attention for their daring stunts. CNN reported that the two can perform a quadruple twist — a move in which Morozov tosses Tarasova into the air so high that she can turn four times. And their quirky song choices have turned heads, too. Although the two performed their short program to Rachmaninoff's "Piano Concerto No. 2," their free skate will be set to Christina Aguilera's "Candyman."
Tarasova and Morosov aren't just partners on the ice. The two began skating together in 2012, and not long after, they started dating. In an interview with Golden Skate, Tarasova admitted that it is sometimes hard for the two to keep their personal lives from affecting their professional lives.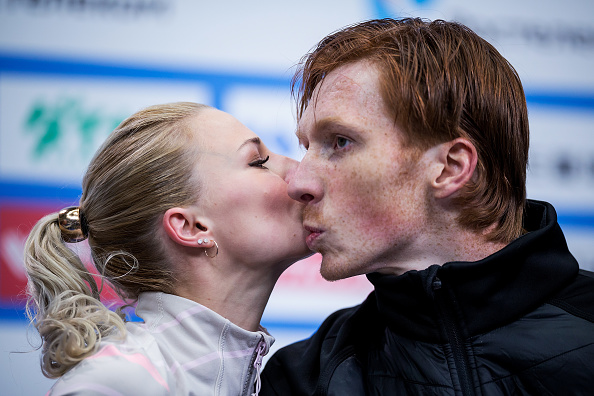 But, like any partners, these two have faced their fair share of obstacles. In 2017, the Russian pair made headlines when Morozov accidentally sliced Tarasova's leg open with his skate. Despite Tarasova's injury, the two went on to claim third in the world championships in Finland, just hours after the accident.
Tarasova has been skating since 1998. She initially trained as a solo skater, but in 2010, she moved from her hometown of Kazan, Russia to Moscow and changed her focus to pair work. Morozov also began skating in 1998, but he started playing ice hockey before switching to figure skating as a 14-year-old.
Because Russia has been banned from the 2018 Olympics due to state-sponsored doping, Tarasova and Morozov are competing with other clean Russian athletes as "OARs" or "Olympic Athletes from Russia."
Morozov and Tarasova are remarkable athletes, and we can't wait to see how this couple does throughout the rest of the games. We're excited for all that the 2018 Winter Olympics have in store!