People think Evgenia Medvedeva was "robbed" of the gold after her "Anna Karenina" routine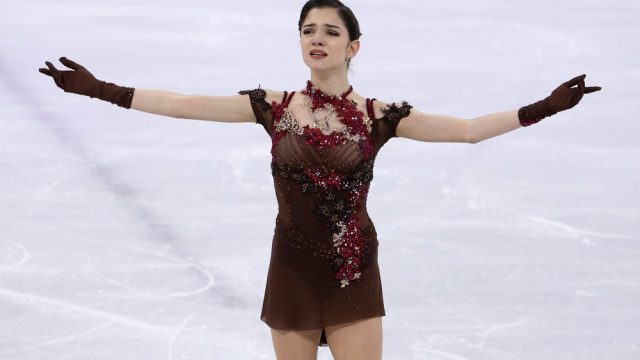 Evgenia Medvedeva may not have taken home the gold medal during the women's free skate at the Winter Olympics on Thursday, February 22, but she did leave an impression with her incredible Anna Karenina routine. She skated to the song "Dance With Me" by Dario Marianelli, which is an original song from the motion picture soundtrack starring Keira Knightley.
Unfortunately, her competitor and friend, Alina Zagitova, edged her out to become the women's figure skating champion and claim a first gold in Pyeongchang for Russia.
Though the 18-year-old was far more creative in her routine (fully inhabiting her Anna Karenina character), it wasn't enough for gold.
"I felt today in my program really like Anna Karenina in the movie. I put everything out there that I had, I left everything on the ice," Medvedeva told reporters after winning the silver medal. "I have no regrets."
While her performance from the Olympics games isn't up yet, here's the routine from a competition from late last year:
https://www.youtube.com/watch?v=ZPb57kRiLxA?feature=oembed
"Honestly, I skated like in a fog, for the first time. It is because I realize that I am enjoying the process, these four minutes are historical and they only belong to me. The whole world is watching only me for those four minutes. My soul thrives on that feeling," she added.
The whole world was watching ,and many viewers believe she was robbed.
false false
Medvedeva may not have won the gold, but she proved to the figure skating world that she's a force to be reckoned with.
Meanwhile, the Team USA figure skaters didn't fair as well, cumulatively scoring their lowest since WWII. It's okay, guys — there's always 2022!