The Everything Doughnut is here and nothing makes sense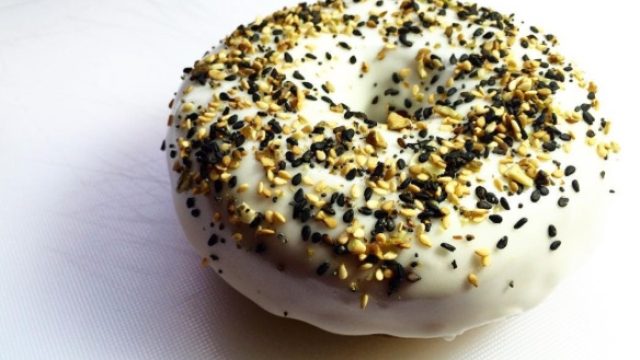 The Doughnut Project in NYC has just unveiled a new doughnut that we're equal parts excited and unsure about the Everything Doughnut. You know, like an Everything Bagel, but a…doughnut.
Are you just as concerned as we are? Obviously doughnuts typically taste good no matter what the situation is that's happening on top of them, but poppy seeds and garlic mixed with frosting is something we're not completely on board with. But we're also not not on board, because you know, doughnuts.
The Everything Doughnut is smothered in cream cheese glaze and topped with Sesame Seeds, Poppy Seeds, Pepitas, Garlic and Sea Salt. And a little happiness drizzled on top of that, probably.
So basically if you can't decide between eating a bagel or a doughnut for breakfast (or lunch or dinner), you might as well combine them into one tasty (or not tasty, depending on your taste buds) hybrid doughnut/bagel.