If you've been sleeping on Iman Cosmetics perfect powder line, you're about to be enlightened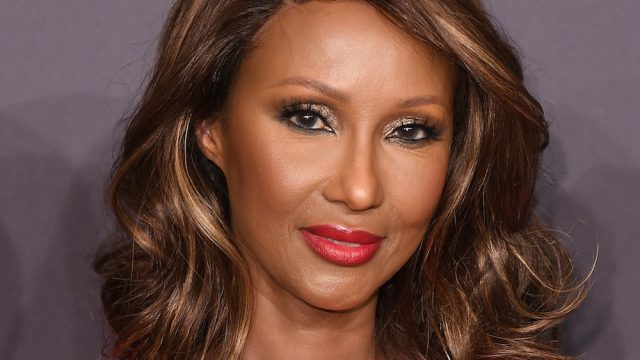 Before there was Joan Smalls, Jourdan Dunn, and Jasmine Tookes, there was Iman. The Somalian supermodel is all kinds of legendary queenliness — even Naomi Campbell once commented that absolutely no one could work the catwalk like Iman.
Iman may not be walking as many catwalks these days, but you can find her werking the aisles of your local Target. Her Iman Cosmetics brand is a drugstore beauty mainstay, so why is it so overlooked?
While it's easy to get excited about mega brands becoming more inclusive, it's important to note that drugstore brands like Black Radiance, Black Opal, Milani, and Iman have been brown skin-friendly from the start.
https://www.instagram.com/p/BSPYgUCBp63
When BB creams first became popular in the US, Iman was one of the first to roll out deeper shades, which is still incredibly difficult to find. Laura Mercier just rolled out a brown version of their iconic translucent powder, while Iman has had several deep shades for quite some time.
https://www.instagram.com/p/BOfT8xAjUmT
Iman Cosmetics is in no way a newbie on the streets and their powders are some of the best out there. Let's get into 'em.
https://www.instagram.com/p/BQBbeq0D4qo
First things first, Rihanna uses it.
https://twitter.com/udfredirect/status/591635400067837954
In general, powders are where beauty brands lose brown-skinned customers. Iman's powders are warm, silky, non-ashy and come in five shades of brown. Use this little baby to set makeup and control oil throughout the day.
https://www.instagram.com/p/BOfT8xAjUmT
Wear this powder solo for medium coverage or over foundation for a full beat. It can be used wet or dry and has vitamin E so it won't dry out dry skin. Try buying one a shade or two deeper to use as a natural contour powder. It's perfection.
https://www.instagram.com/p/BIDUPTJDTgi
Corn silk and silk powder combine in this shine-free powder. It's not formulated for use under eyes, and if you have any peach fuzz on your face, apply the powder int he same direction as hair growth to keep everything smooth and #flawless.
https://www.instagram.com/p/BSo5EkbBL3H
The next time you're strutting down the beauty aisle, show Iman powders some love.
https://www.instagram.com/p/BM91_dCD7Kl
And be sure to check out her foundations, eye products, lipsticks, liners, and glosses while you're at it.