Everyone is talking about this makeup tool that looks like a push up bra insert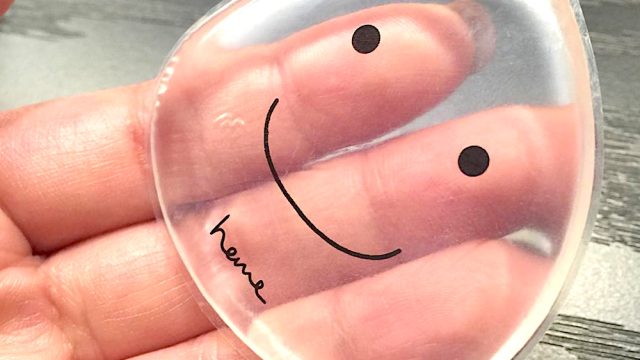 Finding the right makeup tools can be a challenge, so we're always curious when new beauty products hit the market, even if they're unusual like the new Molly Cosmetics Silisponge. This silicone "sponge" claims to be an effective tool for applying makeup without wasting any foundation like a regular sponge or brush would. This silicone sponge (that seriously looks like boob implant) has the whole internet talking, and it looks like people are into it because it's completely back-ordered! Could it really be the next Beautyblender or is this a total gimmick?
Sometimes we can totally see innovations in beauty coming our way like a stamp that gives you perfect winged eyeliner. It just makes sense! But other times, we're left scratching our heads and wondering how it ever came to be. This sponge is so interesting and unique that we are left speechless!
When you first look at it, it literally appears to be something you'd stuff in your bra on days you need a little lift, which is slightly unappealing. However, we're not exactly put off entirely by it. Have you ever seen anything like it?
Who doesn't love the idea that we'd be saving money on our makeup products? It always feels like such a waste when you wash your brushes and you see all that precious foundation running down the drain.
If this video is any indication, it looks fairly effective at blending it, though it's so crazy to believe what we're seeing!
Are you suspicious or are you into it? And is it really made out of silicone? Looks more plastic-y to us.
To its credit, it does look so much easier to clean than a brush or sponge. Even Beautyblender and brush devotees will admit to being irritated when they have to clean those guys.
We just don't know what to make of this unique beauty tool!
If you're totally intrigued, check out Molly Cosmetics to pre-order one for yourself. It'll take a few weeks to get to you since shipping takes 10-21 days, but it just might be worth it. Also, they're on sale for $9.90 instead of $12!