Every Lorelai and Rory tradition or ritual in "Gilmore Girls" that we don't understand but firmly support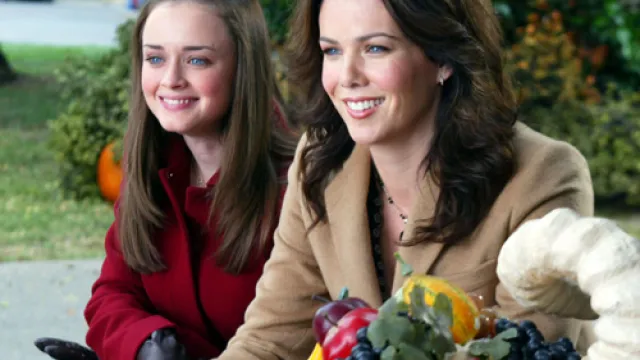 It's so close to the Gilmore Girls revival that we can almost taste it! In continuation of our countdown to the premiere of Gilmore Girls: A Year in the Life, we've rounded up every Lorelai and Rory tradition that we don't totally understand, but firmly support.
Sure, we all know that the Gilmore ladies drinks a lot of coffee and love junk food, but what you might not remember is that some of this scarfing down of food is part of one of the characters' many wacky traditions.
The mother-daughter duo could easily be considered the greatest mother and daughter combo to ever grace our TV screens and these traditions, rituals and outrageous tried and true activities between Lorelai and Rory are the reason why. See what we mean below, and maybe grab a box of Pop-Tarts or an I-V of coffee to enjoy the trip down memory lane more efficiently.
1. Those Friday night dinners.
Okay, this is a given, but still a total Gilmore tradition. What would life look like for the Gilmore family without those dinners? That is something we don't want to find out! On the rare occasion that the dinner plans changed or one person didn't go it was bizarre and we did not like it.
2. Late night bed chats in Rory's room.
There were a lot of nights when one of the girls couldn't sleep, which resulted in late-night chats in Rory's bed. Despite the fact that it was late the chatter and topics were never dull or boring. They even stretch into college, when Lorelai stayed with Rory on the first night in her dorm room, after trying all the take-out food places near by of course.
3. Over the top birthday bashes.
We are so on board for this tradition, even though we have no clue how they pulled off these lavish birthdays, year after year. One year, there was a double party, one in Hartford for Rory and then another in Stars Hollow, which featured a face cake and food fight. Plus, there was the time they tried to break the world record for biggest pizza ever made in honor of Lorelai's birthday, which was awesome.
4. Taking part in the basket auction.
Every year the Gilmore ladies took part in the Annual Basket Auction, despite the fact that they could not cook. The most memorable auction was when Jess outbid Dean for Rory's basket and all hell broke loose. Oh, and Lorelai made Luke bid on her basket. So much basket love.
5. Morning birthday wakeup ritual.
On the morning of Rory's birthday, Lorelai would wake her up at the wee hours of the morning, near the time she was born. She would then lay in bed with Rory and tell her the story of how many hours she was in labor, after telling her how much she loved her. Yes, it was a little too early to wake up in our opinion, but such a sweet mother-daughter moment no matter what the time.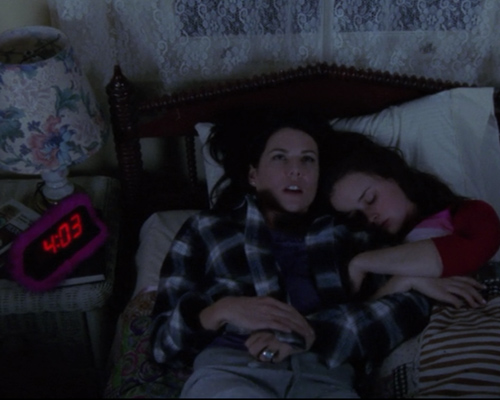 6. Always being late to town meetings.
The fact that these two never missed a town meeting is an accomplishment in itself, but it wouldn't be a Stars Hollow town meeting if Lorelai and Rory weren't late. Plus, they always brought junk food, or actual dinner, despite the rule against eating in the meetings. It drove Taylor mad and was hilarious.
7. Candy cane coffee at Christmas time
Now this is a tradition we can get behind. Every year the Gilmore girls went to Fran's Bakery and got her seasonal drink, which was candy cane coffee. Even when Rory was in London for Christmas they stuck with the tradition when she returned and sadly had to make their own peppermint drink, by crunching up candy canes into their coffee at Fran's because the season was over. You've got to admire their dedication though, right?
8. The never-ending movie nights.
It wouldn't be a complete season of Gilmore Girls without at least one movie marathon. This adorable mother-daughter duo had more movie nights in than we can count. They would rent numerous movies, usually from polar opposite genres and eat lots of junk food including, pizza and Pop-Tarts. When they rented Willy Wonka and the Chocolate Factory, they went for a full-on candy theme and pretty much ate all the candy they could find at Doose's Market.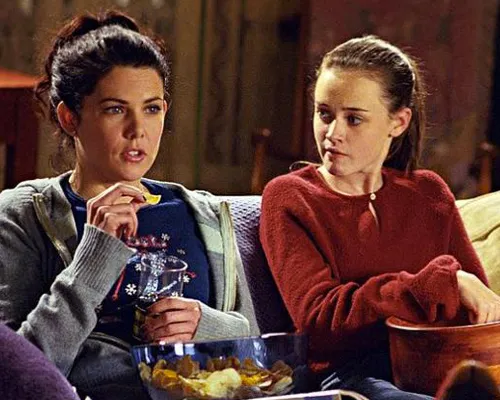 9. Helping Lane achieve her goal to become a rockstar.
While this was more of a life goal and less of a ritual or weekly occurrence, both Lorelai and Rory made it their mission to help Lane express herself through music. They would listen to the newest album with Lane, while hiding it from her mother, which always including blasting it throughout their house and dancing around together.
10. The ultimate TV viewing parties.
Before Netflix and Chill there was the Gilmore girl TV viewing party and it was pretty epic. The girls mostly watched The Donna Reed Show and they never missed an episode. In fact, when they first let Dean watch with them they described it perfectly. "It's a lifestyle," Rory said. "It's a religion," Lorelai added. Oh, and obviously they created their own dialog over the actual show, because they are Lorelai and Rory, and talking is their thing.
11. Giant Ben & Jerry's ice cream tubs to help heal a breakup.
This was more of a remedy than anything else, but it was such a Gilmore way to heal that it makes the list. According to Lorelai this is what has to happen when your heart is broken and she would know, since she had many suitors over the years.
"I think what you really need to do today is wallow. Get back in your pajamas, got to bed, eat nothing but gallons of ice cream and tons of pizza. Don't take a shower or shave your legs or put on any kind of makeup at all. And just sit in the dark and watch a really sad movie and have a good long cry and just wallow," she said and we agree!
12. Being creative and coming up with new things to do together all the time.
While this is more of a general commentary on the Gilmore girls' lifestyle, we had to add it in. These two were always trying new bizarre things and all of them looked super fun. For example, the time that Lorelai decided to create a new game to play, because they didn't have any complete games.
"I managed to find Uno and Checkers, and Battleship and most of the pieces of Candyland. Which I figure, we can mix together to create a fabulous new game, Candyship Battleland," she explained. "War never tasted so good!"
13. Relishing in the first snow.
Everyone knows that winter was Lorelai's favorite season because of the snow. She usually predicted when the first snow was going to hit and planned a day with Rory to celebrate it. They stood out in the snow with coffee and doughnuts while wearing cozy outfits as the snow came down. Plus, with every first snow, they would walk around town and just let the white powder fall on them.
14. Coffee dates all day every day.
In Season 1 Lorelai and Rory go to Luke's for coffee numerous times a day. As the series continues they always have breakfast there with a giant mug of coffee and a lot of the time their dinners are also at Luke's, which is a tradition we can fully support. Too bad there aren't Luke's Diners, complete with Luke Danes in every town, because we know it would be our morning stop, too!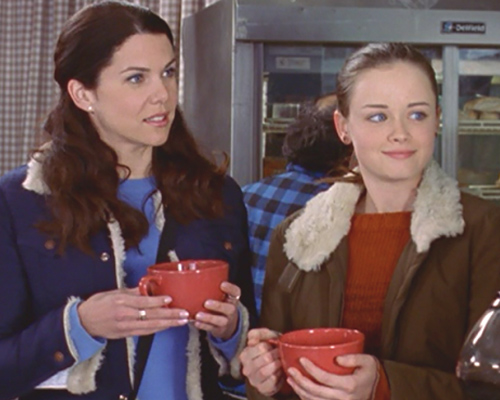 PS: While talking at a mile a minute isn't a tradition, it was a necessity when it came to how Loreali and Rory related to one another.
With Gilmore Girls: A Year in the Life just around the corner, we are kind of panicking because we have to say goodbye to Lorelai and Rory once and for all. But hey, it's better to have watched more Gilmore Girls than to have never watched Gilmore Girls at all.