Everlane's new sustainable The Court sneakers are the perfect shoes for spring
Classic white sneakers consistently make it onto every capsule wardrobe list, but finding the perfect pair can feel like a lifelong journey. Luckily, Everlane's The Court Sneaker launch means you can officially call off the search. As an established authority in comfy, sustainable basics, Everlane has already supplied most of our wardrobe essentials—from comfy jeans to work-perfect flats—so it's no surprise that the brand nailed this one as well.
The Court Sneaker's truly minimal design and rounded shape offers unlimited styling opportunities, designed to be dressed up or down depending on your vibe. And with springtime finally around the corner, a trusty pair of sneakers are a must for a number of warm-weather outfit templates. Pair them with a flowy dress for a trip to the farmers' market, jeans and a t-shirt for an errands-run, or breezy trousers for the office on Casual Fridays.
At just under $100, the sneakers will quickly pay for themselves because of their easy, wear-with-anything quality. Consider them the everyday complement to The Trainer, the brand's tried-and-true basic sneaker that features a more sporty design.
Aside from looking cool, you can feel extra good in Everlane's The Court Sneaker knowing that every pair is sustainably made. The soles are made of a blend of natural and recycled rubber, and the lining is made of 100% recycled polyester. Plus, Everlane fully offsets the carbon footprint produced from the manufacturing of the shoes.
Shop the sustainable wardrobe essential below.
The Court Sneaker in White
The classic white sneaker will always have a place in our hearts for its effortlessly chic styling ability, but there's no stopping you from grabbing every other color as well. The Court Sneaker is available in three more solid options: dusty rose, cloud grey, and black.
The Court Sneaker in White/Mustard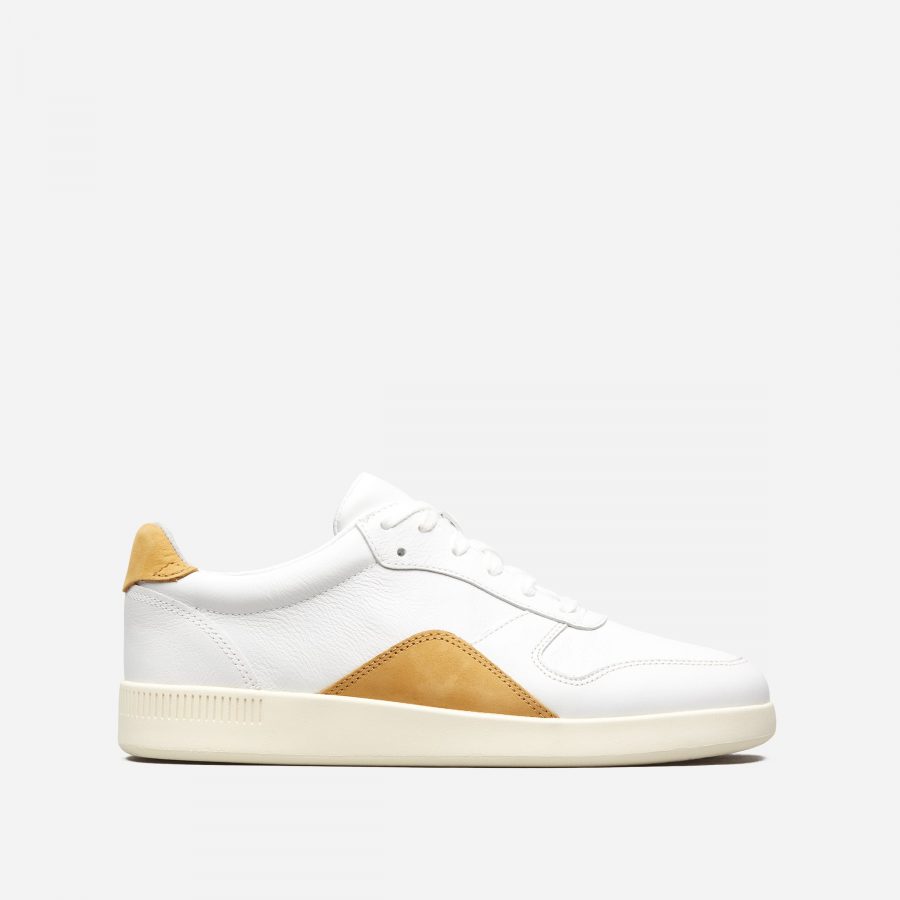 In case you want to add an extra pop of color or design element to your everyday kicks, the minimal sneaker also offers three subtle yet stylish color-blocked options, including the white and mustard design above, an off-white and "fog" pairing, and a pure-white and beige pair with a hint of forest green on the heel.