Everlane's new flat is designed to be worn all day, from your morning commute to evening meetings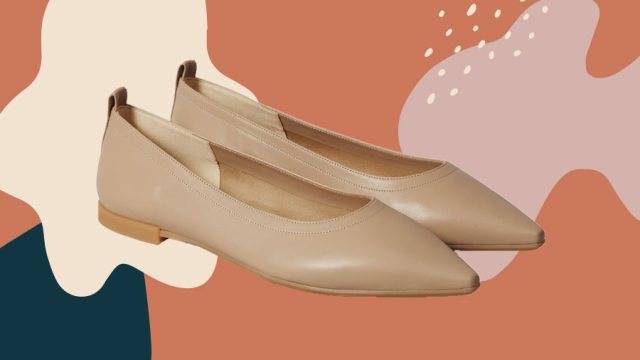 When it comes to designing comfortable and stylish shoes, Everlane knows what it's doing. The brand is trusted for its reliable, versatile styles that pair well with your entire arsenal, from casual daytime looks to professional office attire. Although we recently mourned the loss of Everlane's tried and true Modern Loafer, the brand just launched a shoe that has the potential to become our new style staple.
Say hello to The 40-Hour Flat, Everlane's newest flat that's designed to be worn throughout your entire 40-hour work week (and overtime, because we know it's more than 40 hours, in reality).
The stylish shoe is made of 100% Italian leather with a rubber outsole, and it features subtle top-stitch details and a sleek, pointed toe. The 40-hour flat comes in five colors: the reliable neutrals—black, taupe, and cream, and two playful pops of color—soft pink and red. That's one color for each day of the week, so your workwear wardrobe never looks tired. From your morning commute to after-hours at the office, these flats will keep your feet comfortable and your look chic. Shop the 40-Hour Flat below.
Everlane The 40-Hour Work Flat in Taupe
Pair these taupe flats with earth-toned outfits for a neutral look. These will go with anything and everything, tbh.
Everlane The 40-Hour Work Flat in Black
Wear this black pair of flats with your most professional outfits for a sleek look that'll slay.
Everlane The 40-Hour Work Flat in Cream
Whip these babies out for spring and summer, when your wardrobe is lighter and fresher.
Everlane The 40-Hour Work Flat in Dusty Lilac
A slight pop of color goes a long way in a workwear wardrobe, and these soft pink flats will do the trick.
Everlane The 40-Hour Work Flat in Tulip
Go the bold route with these tulip-red work flats that add interest to any outfit.