Evan Rachel Wood is speaking in front of the California senate today to promote what could be a revolutionary bill for victims of domestic abuse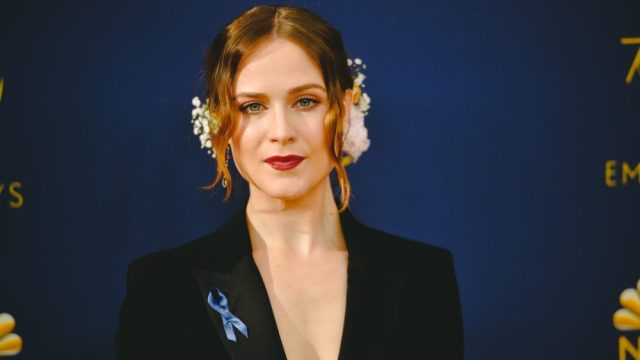 Evan Rachel Wood has been extremely open in recent years about her past sexual abuse, and she's used her experiences to fight for other survivors. In February 2018, she even testified about her assault before Congress, urging the government to expand protections for victims. Now, she's using her platform to ask California to extend its statute of limitations on domestic violence reports.
In an essay for Mic, published today, April 23rd, Wood explained how her past trauma informed her advocacy for the new law and how it could help others. She wrote that she became involved in a highly abusive relationship as a teenager, which later resulted in intensive therapy. When she then attempted to report her abuse several years later (when she finally recognized it for what it was and felt ready to take action) she discovered that California requires that survivors report their abuse within three years of it happening—and that time had already lapsed.
"I have evidence–a vast trove of photos and video–that, if admissible in court, would ensure my abuser is never able to prey upon a young woman again," she wrote. "But unfortunately, the statute of limitations in California is 3 years and had run out."
This experience has led Wood to support the Phoenix Act—a recently proposed California law that would extend the state's statute of limitations from three years to 10 years. According to the act's website, Wood and a group of other survivors worked with California state Assemblymember Eduardo Garcia and state Senator Susan Rubio to create the bill. Today, the Westworld actress and five other advocates will testify about the bill before the California senate.
In her essay, Wood explained that the Phoenix Act would benefit about 7 million domestic violence survivors if it passes. She added that she hoped the bill would also set the stage for change nationwide.
"It can be hard to speak one's truth; I don't do this without fear," she wrote. "But I hold close the stories of the brave advocates who are working alongside me, as well as my firm belief in the power of visibility and our ability to heal each other through our collective experiences. I'm here so that the next generation won't have to know the violence, fear and shame that I had to endure."
Changing the statute of limitations would make a huge difference for so many survivors. We're grateful that Wood is speaking up about this important issue, and we stand with her and with all survivors working to make this change.