There's a Warrant Out for Marilyn Manson's Arrest in New Hampshire
The charges are from 2019 but have been escalated as a result of "recent other allegations."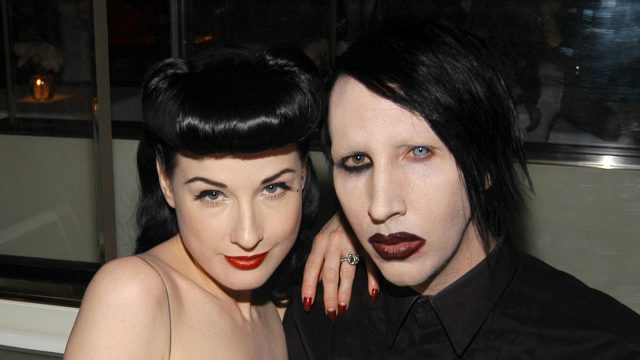 Warning: The following article contains descriptions of sexual abuse and domestic violence.
Update, May 26th, 2021: An arrest warrant issued for Marilyn Manson in 2019 is now back in headlines due to "recent other allegations" against the musician, The New York Times reports. The warrant addresses "two misdemeanor counts of simple assault" in a 2019 situation involving a videographer at a New Hampshire concert.
Though the warrant was issued in October 2019, Manson has reportedly ignored it, according to The New York Times. The charges allege that Manson spat on the videographer. Manson's team responded that the musician "likes to be provocative on stage" and that is no secret or surprise. Manson's lawyer added that when they asked for proof of damages from the videographer, they were ignored.
Nevertheless, the warrant is still out, and now the New Hampshire police want it settled in light of the sexual assault allegations lodged against Manson by his former romantic partners, as well as other women who were in contact with him. The New York Times reported that local authorities want Manson "to take care of his business…so that he and we can move forward."
Update, May 19th, 2021: In the latest lawsuit filed against Marilyn Manson in Los Angeles, his former assistant Ashley Walters claimed he "regularly engaged in threatening behavior," according to Deadline, who obtained a copy of the lawsuit paperwork.
The lawsuit states that Manson would fly into drug-induced rage and verbally assault her, as well as physically threaten her, including throwing dishes at her and pushing her. Walters also claimed in the lawsuit that Manson would tell her about getting away with rape and that he often told her "he wanted to kill women he was involved with."
In addition to all of this, Walters alleged that Manson would force her to snort cocaine to stay awake longer hours to work and encourage his friends to mistreat her as well. She also said she witnessed Manson abusing former girlfriend Evan Rachel Wood, who has also come forward about her history with the musician. Walters said in the lawsuit that she saw Manson "throw a prop skull so hard at Wood that it left a large raised welt in her stomach."
Manson's team has denied these accusations.
Update, May 5th, 2021: Yet another woman has opened up about her scary experience with Marilyn Manson. Ashley Morgan Smithline, one of Manson's exes, shared in the May 5th issue of People, detailing what she claims she went through with the musician, after accusing him of abuse in February.
According to People, Manson "bit her, whipped her, cut her with a swastika-emblazoned knife and shoved his fist in her mouth during sex." She went on to provide horrifying accounts of her two years acquainted with Manson, starting in 2010. And while a statement on behalf of Manson claims Smithline's accusations are completely false, she provided People with printouts of conversations she allegedly had with Manson, proving her story.
She said that while she initially connected with him over his intelligence, it eventually turned sour. "He seemed brilliant and I still think he is. We talked about Nabokov and Tolstoy and foreign films and not in a pretentious 'first year of film school' way. In a way of really appreciating art and literature."
Update, May 3rd, 2021: In a lawsuit filed April 30th, actress Esmé Bianco sued Marilyn Manson. She accused the musician of sexual misconduct and battery, according to Entertainment Weekly. The lawsuit reads, in part, "Mr. Warner used drugs, force, and threats of force to coerce sexual acts from Ms. Bianco on multiple occasions."
Bianco also provided a statement to EW that read, "For far too long my abuser has been left unchecked, enabled by money, fame and an industry that turned a blind eye. Despite the numerous brave women who have spoken out against Marilyn Manson, countless survivors remain silenced, and some of their voices will never be heard. My hope is that by raising mine I will help to stop Brian Warner from shattering any more lives and empower other victims to seek their own small measure of justice."
Over the past several months, women have been coming forward to accuse Manson of abuse, but Bianco is the first to file a lawsuit in court. Manson's lawyer Howard King said in a statement to EW that this accusation is "provably false," and Manson has previously denied all claims made against him.
Update, February 11th, 2021: Actress Esmé Bianco, who starred in Game of Thrones, told The Cut yesterday that while she was dating Marilyn Manson he abused her. The two met through Manson's ex-wife Dita Von Teese, and when Manson and Von Teese split, Bianco remained friendly with the musician.
She described filming a music video with Manson in 2009 before they started dating, in which he allegedly tortured her, taking it farther than what she told The Cut to be what she knew of BDSM. In 2011, she moved in with Manson, wherein she claims he controlled her sleep schedule, what she wore, and when she could leave the house.
Bianco recalled a time when Manson cut her, saying, "I just remember laying there, and I didn't fight it. It was kind of this final-straw moment where I had lost all sense of hope and safety." Her actual final straw came shortly after, when Manson chased her around the house with an ax, she told The Cut. She moved out shortly after and broke up with the singer via email.
In the aftermath of the relationship, Bianco said she experienced PTSD at the hands of a "monster who almost destroyed me and almost destroyed so many women."
Update, February 8th, 2021: Evan Rachel Wood shared more terrifying and heartbreaking details about her relationship with Marilyn Manson in a collection of posts to her Instagram Stories on February 5th. The actress alleged that Manson was prejudiced against her because of her Jewish heritage, writing, "I was called a 'jew' in a derogatory manner. He would draw swastikas over my bedside table when he was mad at me. I heard the 'n' word over and over. Everyone around him was expected to laugh and join in. If you did not or (god forbid) called him out, you were singled out and abused more. I have never been more scared in my life."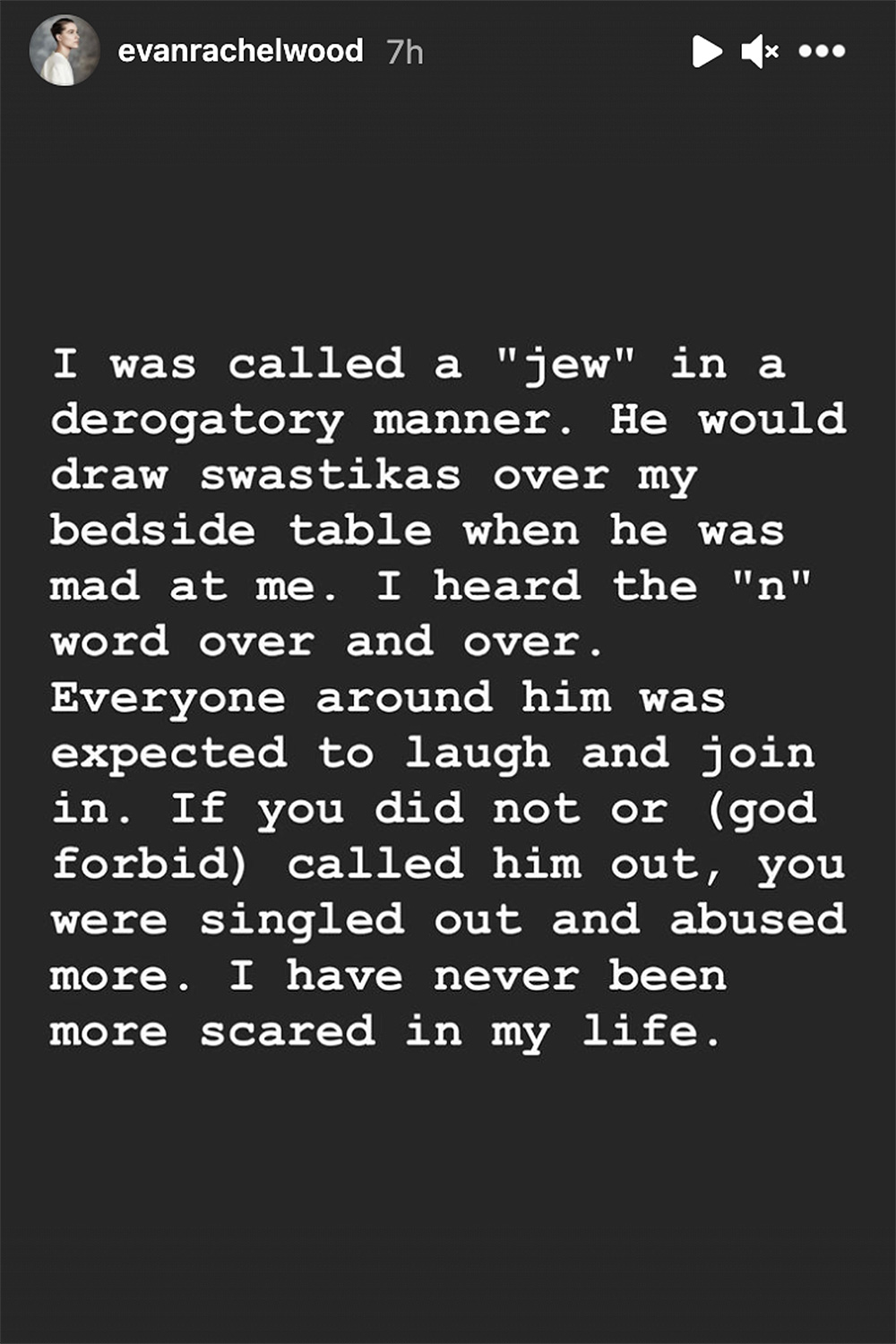 Wood also shared photos of Manson's tattoos of a swastika and a Nazi-inspired skull and cross bones, adding in one Story that he didn't have those tattoos when she started dating him. Wood has not been quiet since opening up just a week ago about the abuse she endured, but as of now, Manson has still only claimed the allegations are "horrible distortions of reality," according to People.
Update, February 5th, 2021: Yesterday, musician Phoebe Bridgers shared her own experience with controversial artist Marilyn Manson. In two tweets, Bridgers alleged that he "referred to a room in his house as the 'r*pe room'" and added that she stopped being a fan after that. She said the experience came when she visited the musician's home while she was a teenager. Now 26, Bridgers is standing by others who have accused Manson of abuse.
Bridgers added a second tweet claiming that those around Manson have always been aware of his actions, writing "The label knew, management knew, the band knew. Distancing themselves now, pretending to be shocked and horrified is fucking pathetic."
Update, February 4th, 2021: Marilyn Manson's ex-wife Dita Von Teese spoke out on Evan Rachel Wood's allegations against the musician. In a February 3rd Instagram post, Von Teese shared that her own relationship with Manson—whom she married in 2005 and divorced in 2006—did "not match" Wood's allegations.
She wrote, "To those who have expressed your concerns of my well-being, I appreciate your kindness. Please know that the details made public do not match my personal experience during our 7 years together as a couple." Von Teese added that she wouldn't have married Manson if there had been any abuse and divorced him a year later because of infidelity and drug abuse. She concluded her post by adding, "This is my sole statement on this matter."
Original story, February 2nd, 2021: On Monday, February 1st, Westworld actress Evan Rachel Wood released a statement on Instagram accusing Marilyn Manson (real name Brian Warner) of abusing her during their three-year relationship that spanned from 2007 to 2010.
"He started grooming me when I was a teenager and horrifically abused me for years," Wood's statement reads. "I was brainwashed and manipulated into submission…I am here to expose this dangerous man and call out the many industries that have enabled him, before he ruins any more lives."
Friends, followers, and fellow activists showed their support for Wood in the comments of her post. Selma Blair wrote, "I love you," and Rose McGowan, who was at the helm of the #MeToo movement of 2017, commented, "So much love for you." Anna Paquin added, "Your courage is inspiring," and friend Josh Gad wrote, "Love you."
Wood also shared a January 21st letter from California Senator Susan Rubio, who wrote to the Acting Attorney General Monty Wilkinson and FBI Director Christoper Wray on Wood's behalf. In the letter, Sen. Rubio asked that the U.S. Department of Justice meet with the alleged victims immediately and investigate the alleged abuse accusations.
"As a domestic violence survivor who now advocates for victims in my role of California state legislature, I share a common trauma of emotional, psychological and physical control at the hands of an abuser," Sen. Rubio penned. "One of the reasons I fought for victims in my state to have more time to seek justice and to be allowed to use evidence of psychological and abusive behavior, commonly referred to as coercive control, was because they needed additional protections to stop the abuse."
As mentioned in the above letter, there are victims—plural—accusing Manson of wrongdoing. According to BBC, four other survivors have come forward with stories of extreme physical and verbal violence, forced drug use, being held hostage in Manson's home, and sexual abuse.
One former fan who goes by SourGirrrl detailed her experiences with Manson in a January 31st post. Her story is hard to read and chronicles a whirlwind abusive relationship that left her with PTSD.
Former girlfriend Ashley Lindsay Morgan also posted her story to Instagram on January 31st. "I know he is still doing this to a rotating door of young girls, and causing irreparable damage," she wrote. "I am coming forward so he will finally stop."
In September 2020, a former guitar technician of Manson's, who worked with the artist between 2007 and 2008, claimed he witnessed Manson turning Wood into a different person. "He broke her," Dan Cleary claimed on Twitter, later writing that he saw the abuse trickle into other relationships Manson had.
I see so many people defending him & calling his accusers liars I've just had enough, Cleary wrote in his Twitter thread. Believe them, I saw it…There are people in his band/crew that I'm still close to. My apologies to them. But they also know I'm right.
In his own Instagram text post, Manson denied Wood's allegations, calling them "horrible distortions of reality." He wrote, "My intimate relationships have always been entirely consensual with like-minded partners. Regardless of how—and why—others are now choosing to misrepresent the past, that is the truth."
In past years, Wood has talked about her experience with an abusive partner and created the Phoenix Act in 2019, signed into law by California governor Gavin Newsom, which extends the statute of limitations on domestic violence from three years to five. However, she never named her abuser, though many fans and outlets speculated she was referring to Manson.
Now that the story is fully out in the open, we can only hope his victims will receive the justice they deserve and that his reign of terror will be put to an end one way or another.