Evan Peters' blue hair for "American Horror Story" Season 7 was all *his* idea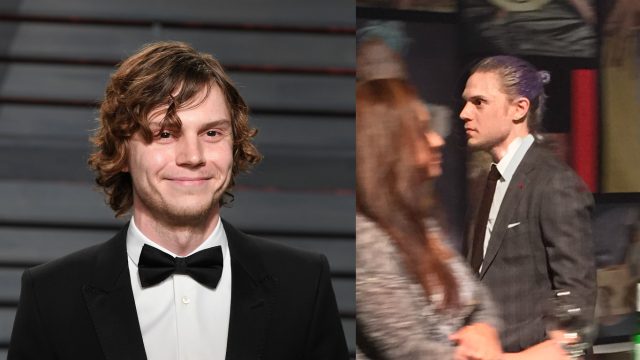 After six seasons, Evan Peters knows his way around the world of American Horror Story — been there, done that, murdered that person, died that way. There's not a whole lot he could do for Season 7 that would really surprise us, but he's going to try anyway. And he's going to do it with blue hair.
Yes, a few leaked pictures from the American Horror Story set show us that the long-term cast member has blue hair for Season 7 because…What…? Why…? Huh…? Obviously, as soon as we get into the season we'll find out exactly why his locks have been dyed (again) for the show, and while seeing the blue hair is surprising enough for us at it is, it turns out the big surprise is that the blue hair was actually all Evan's idea.
At the American Horror Story: Style of Scare exhibit at the Paley Center for Media in Beverly Hills, California, HelloGiggles caught up with the costume designer for the show, Lou Eyrich. Eyrich happened to mention that a lot of the actors on the show are game to collaborate with her on looks for their characters…and sometimes they even come in and suggest that their hair should be blue. While she didn't name names, there's only one person with blue hair (that we know of) for Season 7.
Thankfully, Evan was *also* hanging out at the Style of Scar exhibit, so we went right to the source for confirmation: True or false, Evan, the blue hair was all your idea?
"Yeah!" Evan tells HelloGiggles. "Hopefully you'll see why in the upcoming season, but I just felt like it was important to do, and changing a lot. Hair's a very loud thing."
Oh don't worry, the hair has certainly loud and has caught our attention.
"This year actually I came in with a lot of input," Evan continues. "I'm very excited about my role this year. In previous years I had to [compromise] but I kinda came in pretty hardcore this year with lot of ideas, which they were very open to doing and it's been amazing. I think it's important. I hate going into a wardrobe fitting not prepared, because then you feel like they're making all the choices, they make all the decisions, you don't have any input, you don't know what's right, you don't know what's wrong, you haven't done any research." "I think it's very important to research the wardrobe of the time period. I really think it's gonna give off the best characters. I think you can tell everything about a person from their wardrobe, so it's very important to do that. It's great when you work with somebody like Lou and Ryan [Murphy], cause then they can fine tune it."
But how exactly does this blue hair fit into the season? We're going to have to wait and see. All we really know for certain about AHS Season 7 is that it's based on the 2016 Presidential Election…and Evan Peters has blue hair. We're excited to see just exactly what this means for his character, and please dear Ryan Murphy let him be in more than two episodes this time around.