Eva Mendes doesn't post pictures of her and Ryan Gosling's kids because they can't consent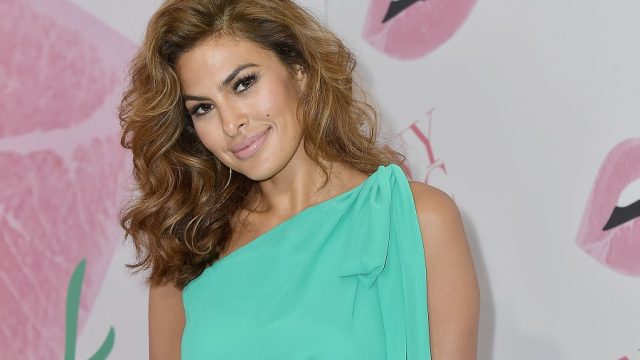 As much as we would love to see Eva Mendes and Ryan Gosling's undoubtedly gorgeous children on social media, Mendes has made it very clear that that's not gonna happen anytime soon. So let's move along, people! In the comments section of her April 19th Instagram post, Mendes explained that she'll be keeping her children's images off of social media until they're old enough to consent to her doing otherwise.
In a post, Mendes said that she wasn't sure what was appropriate to post amid the fear and uncertainty of the coronavirus (COVID-19) pandemic. The post photo was a picture of Rene Magritte's "The Lovers," which she called "one of my favorite pieces of art from one of my favorite [artists]. As an explanation, she wrote in the caption, "I don't post my about immediate family, and it feels so wrong to post about work."
But a commenter wanted to discuss the former part of her caption in more detail, asking why she kept her family off social media.
https://www.instagram.com/p/B_IiLgMDt-v
In response, Mendes said, "I have always had a clear boundary when it comes to my man and my kids."
"I'll talk about them of course, with limits, but I won't post pictures of our daily life," she continued. "And since my children are still so little and don't understand what posting their image really means, I don't have their consent. And I won't post their image until they're old enough to give me consent."
She added that maintaining privacy in her relationship with Gosling "just works for us."
Mendes and Gosling share daughters Esmeralda, who's 5, and Amada, who's almost 4. While some celebrity parents are thrilled to share pictures of their very young children, we respect Mendes' thoughtful choice not to do so. And Mendes' other fans showed their support for that decision in the comments section, too.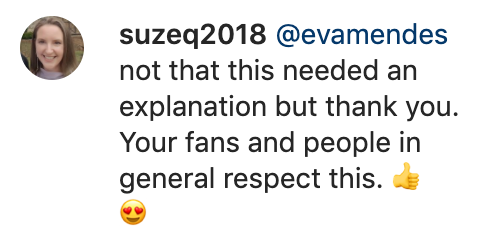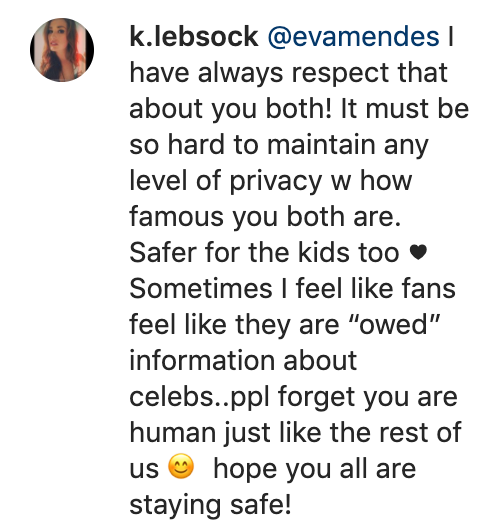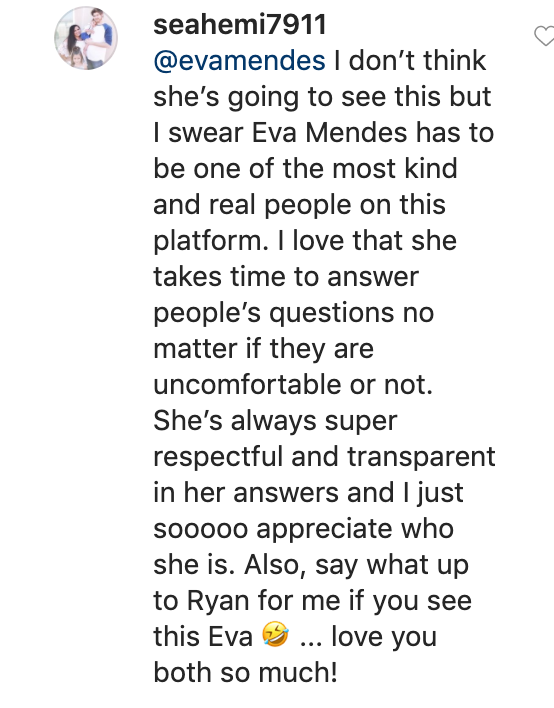 Last year, Mendes opened up to Women's Health about her decision to take a hiatus from her acting career to focus on raising her children. After working in Hollywood for decades, Mendes said that she was feeling "a lack of ambition" professionally. Then she gave birth to her first child and discovered that she was happy redirecting that energy and drive toward motherhood. "I feel more ambitious in the home right now than I do in the workplace," she told the magazine.
We don't need to tell you that there are so many ways of parenting. And the more people share their own, unique experiences with raising children, the less stigma will remain around the choices that aren't so often broadcasted. So however Mendes chooses to be a parent—whether that's being a working mother, safely sharing pictures of her children, or not—we absolutely support it, just as we would support any other mother acting in her children's best interests.