Eva Mendes explained why she thanked a troll for the "compliment" of telling her she's "getting old"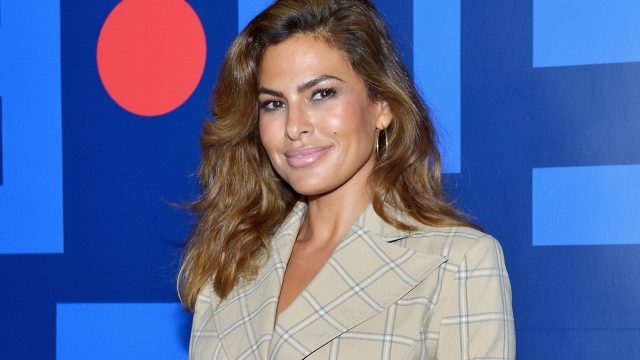 Update, February 24th, 2020, 9:30 a.m. ET: Earlier this month, Eva Mendes had the most gracious response to a troll who told her she was "getting old." And now, she's explaining a little bit more about her reply—in which she thanked the commenter and said that she's "grateful everyday" that she's aging. We could all take some notes on how Mendes approaches aging and what it means for her life.
At the Create and Cultivate event on Saturday, February 22nd, Mendes spoke to People about her "clapback."
"I do not think it was a malicious comment," she told People, "but I think it's more dangerous because it wasn't malicious because it's just ingrained in society that getting older is something we should either fear or be ashamed of."
As for Mendes, she's not ashamed of getting old. She relates her mindset to how the Spanish language translates words around age.
"I want to show you that I take it as a compliment because I'm still here," Mendes said. "I have, you know, instead of saying I am 46, I wish we could change it and I wish I could say, 'I have 46 years to me' because in Spanish it's very beautiful. You say, 'Tengo cuarenta seis años.'  I have 46 years. And in English I know, it's a little, you know it's semantics but it's important.
"It's like, I don't feel 46 but I do feel like I have 46 years of experience to me," Mendes added. "I just find that so empowering."
We love not only Mendes's generous response to a troll who tried to take her down, but her perspective on aging as a whole.
Original post, February 3rd, 2020: This just in: Eva Mendes is alive and growing older with time. On Saturday, February 1st, the 45-year-old actress and entrepreneur shared a video of herself enjoying her new short haircut on Instagram, writing that she was "back to work" in a design meeting. In the caption, Mendes thanked her hair stylist for making her mom life a "helluva lot easier" with the new cut. She also shared details of her "Saturday meeting aesthetic" outfit which included a New York & Company blazer and pants. But when one hostile commenter tried to age-shame her with the flippant remark, "She's getting old," Mendes was having none of it.
Instead of simply ignoring the comment, Mendes took the opportunity to respond with gratitude and celebrate her life along with the inevitability of "getting old."
"Yes your right. Thank God I'm getting old. That means I'm still here," Mendes wrote. "I'm gonna be 46 soon and grateful everyday that I'm aging. Was your comment suppose to make me feel bad? It didn't. It makes me feel grateful. So thank you for the reminder that I'm still here. ❤️❤️❤️."
Mendes led up to the new haircut post a week earlier when she posted a throwback photo of her long locks. "My hair does not look like this anymore," the actress wrote. "But let's be real, neither do I! I say this with love as I'm almost 46."
So the troll should have known that this age-confident woman was not going to stand down to someone shaming her for simply existing.
https://www.instagram.com/p/B7tkK9PBqqb
Luckily there was a lot of love in the comments to balance out the negativity on her most recent post. A different commenter came to Mendes' defense, writing:
"Old?? 'Old' is woman on woman negativity. This one isn't out there offending anyone or in some scandal. She's out here LIVING HER DREAM, huss-a-ling when she probably doesn't even need to! Bringing us good looks. If Eva's old, put me in all the senior communities! Be better. ❤️"
Mendes replied back, showing her appreciation for the backup. "I hear ya on the woman on woman negativity sisi," she wrote. "Let's make [it] all about love for 2020. So thanks for the love!!!! Sending it right back!!!!!"
We're on board Mendes' all-about-love train for 2020 and forever on. It's hard enough to deal with all the constant pressures of beauty standards in the media—let's build each other up, not put one another down.