Eva Longoria's dress for Serena Williams' baby shower was technically a Halloween costume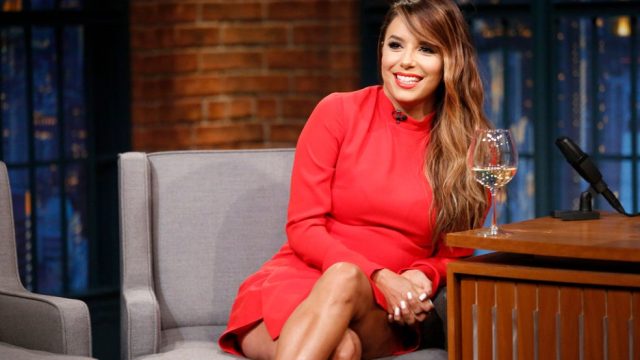 When your buddy wants a themed baby shower, she's getting a themed shower. Even if the wardrobe might be hard to find. The dress Eva Longoria wore for Serena Williams' baby shower was actually a repurposed Halloween costume, and uh — we've been there, girl.
Longoria admitted this during her appearance on Late Night with Seth Meyers. But while she bought it at a Halloween store, it doesn't mean she didn't put a little extra love into it. In fact, she sewed it up herself. The theme for the shower was "the '50s," and with a little bit of DIY, Longoria was able to fit the theme pretty flawlessly.
Just see for yourself.
"If you look closely at my dress you'll see that I had to go to a Halloween shop in Miami Beach because this was in Florida, and there are pirates on my dress." Longoria said. "It's actually a pirate outfit because I couldn't find a '50′s outfit, but I sewed it to make it look like a '50′s outfit."
We never would have guessed, to be honest. Here's another angle of these fabulous ladies.
While she pulled it off, she admitted that themed parties aren't really her favorite. Which is a shame, since Williams is all about them.
"Serena is really big on theme parties which is such a pain in the ass," she joked. "It's such a drag... I have to find an outfit, make sure it fits."
https://www.youtube.com/watch?v=qw9Cc7qv6Wo?feature=oembed
Still, we're sure that the extra effort meant a lot to Williams, who is due in just a few weeks. We have a feeling that her future child is going to have so many incredible birthday parties. And hopefully, Eva Longoria will be in attendance.