Here's where to buy Eva Longoria's plunging white one-piece swimsuit
Ah, summer — the season when we get to lose our inhibitions because it's so damn hot outside. Whether you're reaching for your Slip 'N Slide for nostalgic purposes, or simply chilling in your backyard, drink in hand, we're sure that you'll be lounging like the queen you are this season.
Since we each have our own definition of the ultimate summer day, it makes sense that what we wear would be personalized to our tastes as well, right? While we agree with this sentiment, we'd also like to say that we think Eva Longoria's plunging white swimsuit may just be the swimsuit of the season.
The high waist and plunging neckline mean that no matter your size, you can still rock this pin-up-style suit. Whether you're chilling à la Eva with a drink in hand on a fancy patio somewhere serene, or simply taking a dip in your neighborhood pool, this suit will leave you feeling unstoppable. And if you don't like to swim, not to worry.
Eva's suit could be worn with boyfriend jeans or cut-offs as a bodysuit, for chill summer vibes no matter where you are.
We're imagining wearing this swimsuit on a Caribbean beach, with a strawberry daiquiri in hand. And even though that may just be a fantasy, wearing this swimsuit will allow us to live at least part of it. If you want this suit for yourself, read on. We know you won't regret wearing such a masterpiece.
Neiman Marcus OYE Swimwear "Roman Plunge-Neck One-Piece Swimsuit"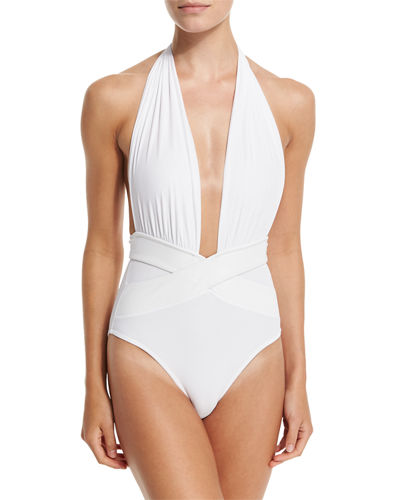 Buy here for $350. 
Care for a dip?