Eva Amurri got real about how breastfeeding left her emotionally and physically "depleted"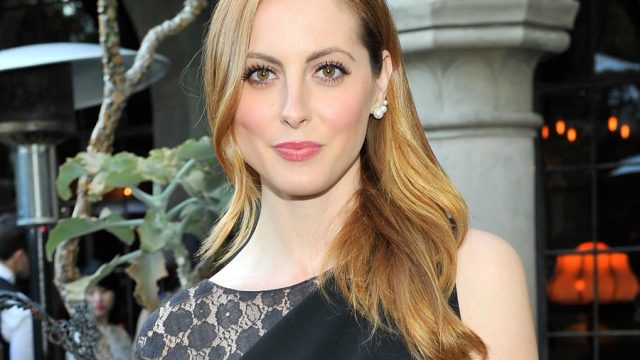 Saved! actress and Susan Sarandon's daughter, Eva Amurri, recently opened up about a personal decision she made about mothering. On her blog, "Happily Eva After," Amurri shared her decision to start weaning her son Mateo off of her breastmilk and start gradually introducing him to formula. She announced the blog post on her Instagram along with a photo of her breastfeeding her son. "I've always been a firm believer that FED is best (bottle or breast)," she wrote, "but I feel the right to that belief even more now than I did my first two rounds of Motherhood."
Amurri started the blog post by writing about the many emotions that came with her decision to wean, noting the mom-shame that bubbles around these types of decisions.
"The decision to wean is super personal for every woman and can come with a lot of emotion—especially because each woman's decision to wean can be tied to feelings of really deep-rooted frustration, shame, sadness, relief, or pressure," she wrote.
She continued, arguing that "there is no right way to feed a baby" and that it took her until her third kid to learn that the choice was up to her. Her first child, Marlowe, is 5 years old, her second, Major, is 3, and Mateo is about 3 months old. She had her children with her now-ex-husband, Steve Martino.
"I wish I had felt more of a right to my feelings and opinions as a first time Mom," Amurri wrote.
"I wish I could go back to that 29 year old woman and tell her, 'Listen Honey. You need to do what you need to do. You need to be strong and happy to make your child strong and happy!'" she added.
Amurri opened up about the guilt she felt when deciding to wean her other two children.
"I made my choice to wean Marlowe at four months, and felt guilty every step of the way," she wrote. Her decision to wean her son Major was the result of a mental health crisis she had been having at the time, she shared. So, when deciding to have her third child, Mateo, Amurri wrote that she would only breastfeed for "for as long as it felt good and positive to do so" and this gave her a better, less forced relationship to breastfeeding—an option she wrote that she is grateful for, as not all mothers are able to breastfeed.
Her decision to wean her son Mateo was ultimately about considering her emotional and physical health as a mother while also thinking about her children. "While I have had an overwhelmingly positive experience breastfeeding this time (and really developed a nice routine!) I've realized that what it's taking out of me emotionally and physically is leaving me more depleted than I'd like as a working, single Mama to two other kids," she wrote.
She also opened up about the emotional side effects of the weaning process, writing that it can make her feel symptoms similar to PMS, postpartum depression, and anxiety.
"I've learned that it's super important for me to go slowly with weaning and to really give myself a lot of grace during the process," she wrote. 
Amurri shared that she gets emotional at night during her final days of breastfeeding her son, but that doesn't stop her from knowing she's making the right choice for herself and her kids. "I also feel really empowered—that I now know myself well enough as a mom to know how I can be the best Mom possible to ALL three of my kids, and the best ally to myself and my own mental health."
She concluded with an affirming message to all the moms out there, whether they're feeling guilt about breastfeeding choices or an inability to breastfeed.
"Our love for our children is not measured by HOW we feed them," she wrote. "It is measured by the fact that we keep them fed and safe, that we nurture them from the depths of our "best," and that we gracefully and wholly love ourselves. You ARE enough, just as you are."