9 essential tips for hosting the perfect "Friendsgiving"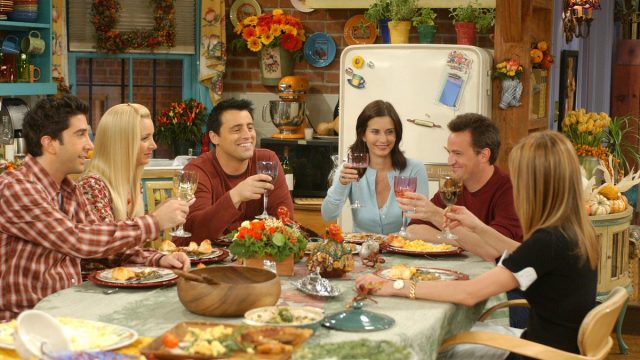 After what will be remembered as a very rough November, so many people have tried to remind us to cling tightly to our loved ones. The holidays offer up a great way to get together. For instance, hosting "Friendsgiving" is a great way to celebrate tradition with your closest pals. There are so many reasons to host a Friendsgiving, like it being a friendlier space for our diet preferences. Or because we like to have a way to celebrate the friends that we consider family.
1. Make sure everyone brings something, so nobody feels overworked.
Cooking a whole meal is SO taxing. You don't want to be like Monica from Friends and try to do it all. Create a list and have friends sign up for different dishes. Plus, a variety of people cooking means more variety!
2. Decorate the table, because it makes what could be a regular dinner party feel special.
Friendsgiving is a perfect time to get a little fancy. Even if you don't have a real set of china, mix and match your dishes, buy some cloth napkins, and add some beautiful flowers.
3. Plus, it's SUCH a fun excuse to DIY.
Make a fun centerpiece like the one above, decorate a vase in fall colors, or paint gourds to decorate your space!
4. Arrange the seating, and encourage people to make new friends.
https://www.instagram.com/p/BMkpBNKDOp8
Force people who might not otherwise talk to explore what they have in common. It's a great way to make awesome memories AND new friendships.
5. Cook the turkey at a friend's house, so your oven is free to keep everyone's dishes warm.
The turkey takes the most time to cook, and it requires the entire oven. Try to get one of your guests to bring the turkey, because it will stay hot at least a couple of hours, and then your oven is free to warm up other dishes, which is always helpful.
6. Actual Thanksgiving is a time for traditional dishes, so maybe mix things up.
https://www.instagram.com/p/BMmWODZA4I9
If there's a play on stuffing that always sounded delicious to you, but your family would never hear of veering from Grandma's recipe, then Friendsgiving leaves you free to experiment. Try a new recipe and bend the tradition. You'll never know what you fall in love with!
7. Don't forget the veggies.
So many of our favorite Thanksgiving recipes involve proteins or starches. Make sure you include some veggies in there. Not only do they provide some much-needed color, they also offer a healthy option in a sea of indulgence. Plus, there are tons of fun and delicious veggie recipes that can spice up your Turkey Day.
8. Actually go around the table to tell your friends what you're thankful for.
It's been a long, tough year. Thanksgiving offers us a chance to tell our loved ones how much they mean to us, so don't let it go. Use the "tell us what you're thankful for" to tell each of your friends why you're thankful to have them in your life.
9. Last but not least, don't forget to take a picture!
It seems obvious, but in the craziness of dinner, sometimes we forget. Make sure before everyone digs in that you get everyone to pose for the picture perfect meal.
Have a delicious and fabulous Friendsgiving!