This $5 Concealer Masks My Dark Circles Better Than Anything Else
It's a hybrid between a color corrector and a concealer.
Welcome to Game Changers, a weekly series in which we reveal the holy-grail beauty products we're loving now—the ones that saved our hair, cleared our skin, and, in some way, changed our lives.
I've struggled with dark circles ever since my freshman year of high school. Back then, I would hoard eye masks and brightening eye creams, and I wouldn't even consider leaving the house without slathering on a thick layer of concealer. After that, I'd follow up with multiple coats of mascara, as I tried anything to make my eyes look bigger, brighter, and more awake.
Thankfully, that obsession is in the past. These days, I'm less heavy-handed with makeup, partly because I've come to embrace my dark circles for what they are and partly because I can't be bothered to wear heavy makeup every day. However, that doesn't mean that I never think twice about my dark circles. I still reach for a concealer now and then—either when my dark circles are particularly apparent or when I'm creating a bold makeup look and don't want my dark circles to detract from it. Also, as long as early morning Zoom meetings exist, so will my urge to cover my dark circles.
When that urge arises, I turn to a single product—one that virtually erases my dark circles so that I don't have to use traditional under-eye concealer anymore, much less other products, like illuminating pens and brightening powders. My secret weapon? Essence's High Beauty Under Eye Brightening Concealer. It's only $5, yet it covers my dark circles better than any other concealer I've ever tried, including those that cost quadruple its price and then some.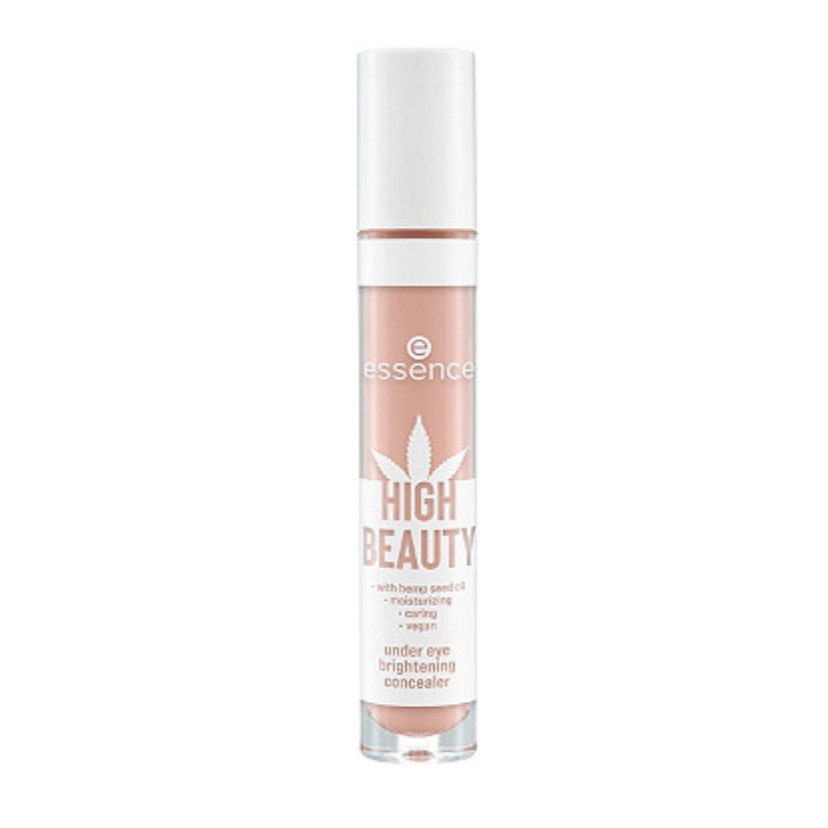 Essence High Beauty Under Eye Brightening Concealer
$$4.99
Shop it
Ulta
The secret to its success is that it's a concealer and a color corrector hybrid. Its unique peachy-pink shade cancels out the blues and purples in my dark circles, making me look wide awake, no matter how many z's I did or didn't catch the night before. Aside from the affordable price tag, I like the fact that the formula is vegan and super lightweight, so it covers up my dark circles without the thick, spackle-like texture of some full-coverage concealers. When I use it, it barely feels like I'm wearing any makeup at all.
Before applying the Essence High Beauty Under Eye Brightening Concealer, I start with a freshly washed and moisturized face to prep my skin for makeup. Then, I apply it straight from the tube with the doe-foot applicator in a single swipe under each eye. From there, I take my damp Beautyblender and dab at it until the formula has completely blended into my skin and my dark circles have gone away. It takes me all of two minutes.
My only caveat is that the product only comes in two shades: a light rose beige and a darker peach beige. Since they're not actual concealers but rather color corrector hybrids, each shade can work for multiple skin tones; but still, two shades aren't enough. I wish there were more of a selection so that more people could benefit from this game-changing product.
I use the rose beige shade, as that's the one that matches my skin tone the best. The results are so good that I don't need to follow up with a traditional concealer. I don't even follow up with powder most days; I just leave it as is. The brightening effect is enough to make my dark circles vanish right before (or should I say below?) my eyes. And it lasts all day, so I rarely have to touch it up after I apply it in the morning—and that's without any powder.