Erin Andrews opened up about her emotional court case on Jimmy Kimmel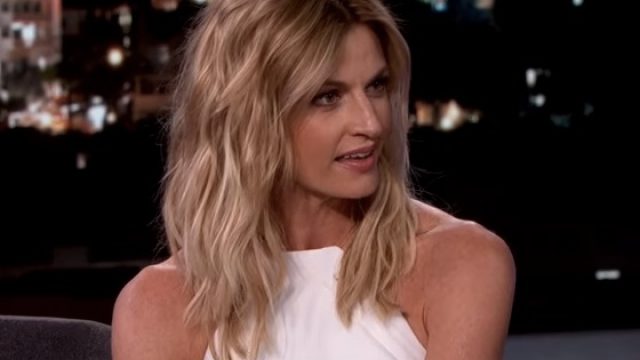 Eight years after Erin Andrews was secretly filmed nude in a hotel room and video was posted to the Internet, the Fox Sports broadcaster told Jimmy Kimmel on Jimmy Kimmel Live! last night that she's ready to talk about this emotional time in her life.
In 2008, a stranger recorded Erin in the nude when she was staying at the Nashville Marriott, then posted the video on the Internet. She sued the franchise owner of the hotel; the case was only settled this month. "This is kind of my come out of hiding," Erin said last night during her first public appearance since the end of the case. "Why would I not want to be here?"
A jury awarded Erin Andrews $55 million in damages (prompting Jimmy to jokingly ask for a million dollars). "I want to thank everybody there were so many people that actually reached out all over the world, really, were so supportive," she told Jimmy. "Mean tweets – they're just a dime a dozen. . . but there were so many nice people that have reached out."
Earlier this month, Erin Andrews tweeted a statement about the hearing, saying that the "support I've received from the people of Nashville has been overwhelming" and that she's been "honored by all the support from victims around the world."
Erin Andrews has had to endure more than anyone should, we are so happy the jury ruled in her favor, giving her the chance to put this behind her and continue rocking the world. Check out the full Jimmy Kimmel Live! clip below.
https://www.youtube.com/watch?v=o0BbI3fJXBk