Erin Andrews has been quietly fighting cervical cancer like a total badass, and it's truly inspiring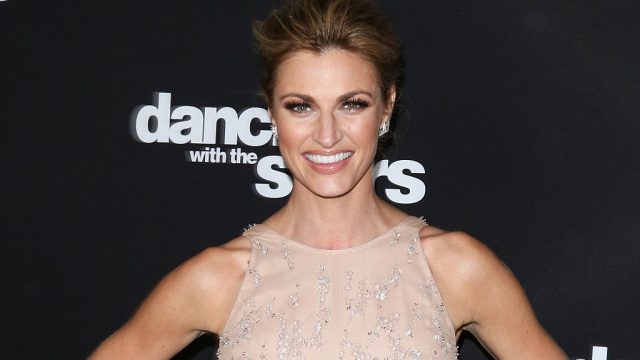 Sports correspondent and Dancing with the Stars cohost Erin Andrews got real about some health issues she's currently battling.
She's kept her diagnosis and treatment private for a number of reasons. In the course of the interview, you get a rare glimpse into this successful woman's personal life. And you can totally understand why she's made the choices she has in the past.
But hearing her share what she's doing in the face of this diagnosis is legitimately inspiring.
Andrews works in a male-dominated world. She already stands out as a woman, and has to constantly prove herself time and time again thanks to the microscope her gender puts her under.
And after a difficult civil trial of a privacy violation and stalking case, she was relieved to finally get her life back in order.
But it wasn't long after that trial had ended when she got some worrisome test results. A few tests were run and, before she knew it, she was diagnosed with cervical cancer.
And, thanks to her intense love for sports, Andrews decided to approach her diagnosis like a true athlete.
She told her doctor, "I'm not watching any football games at home. This is [Fox's] Super Bowl year, and I'm not missing the Super Bowl."
While her loved ones tried to make her focus simply on getting better, Andrews believed that getting back to work would help her heal. And she kept her eyes on the prize throughout her surgery and treatment. She wouldn't let anything – not even cancer – stop her from doing what she loved.
It's obvious reporting from the middle of the action makes Andrews happiest. And she was proud to be on the field reporting not long after her procedure.
She said, "Should I have been standing for a full game five days after surgery? Let's just say the doctor didn't recommend that. But just as I felt during my trial, sports were my escape. I needed to be with my crew."
Andrews also explained why she didn't want to make her diagnosis public. She was already under such intense stress after her trial on top of the gender differences she faces daily. Thanks to the encouragement she got after what she went through, she found a strength inside herself she didn't know she had.
So she made a personal choice and followed through with steely, impressive resolve.
"Throughout my career, all I've ever wanted is to just fit in. That I had this extra baggage with the scandal, I didn't want to be any different. I felt that way about being sick too. I don't want players or coaches to look at me differently," she explained.
Erin Andrews is a true role model on so many levels. Her story and willpower are powerful reminders to be kind to others because you never know what they're going through. And that we can all be stronger than we ever thought possible.