Eric McCormack says the "Will & Grace" revival will be an "antidote" to the struggles of the world, and that sounds good to us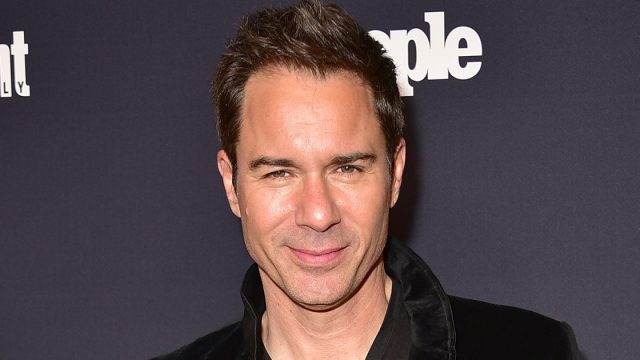 Given how bogged down by the world we can get, we all need some light relief now and again. Luckily, Eric McCormack has teased that the Will & Grace revival will supply just that.
It was announced earlier this year that the beloved NBC sitcom Will & Grace would be returning to our screens, and now we know even more details about when. At this week's NBC upfronts, it was revealed that the sitcom will air on Thursday nights, the same night as the newly rescheduled This Is Us. In fact, we actually got our first taste of the returning show, and, honey, get your martinis ready. https://www.youtube.com/watch?v=TY10pANm4eM
While we might have to wait until fall for Will & Grace to return, Eric McCormack, who plays Will Truman, has spoken about what we can expect from the show.
Speaking to People at a party to celebrate the upfronts, which was also attended by his castmates Megan Mullally, Sean Hayes, and Debra Messing, McCormack spoke about the trailer, which shows the cast bursting into song.
"We had always wanted to do a musical episode on the show, and we finally got to do it," he said. "It was such a hopeful song and funny and light."
The star also spoke about how, when it was originally on air, Will & Grace was a bit of an "antidote" to the struggles of the world.
"When we did the show, we had 9/11, we had the Iraq war, there was a Republican government for six of those eight years. We didn't address it, we didn't do an AIDS episode," he said. "We were an escape, we were an antidote to all of that. "So if there's anything we need, especially this week, it's an antidote."
Of course, the whole reunion of Will & Grace came about after the four cast members teamed up for a special skit about the importance of voting. However, from McCormack's comments, it seems that this new iteration of the show will shirk any politically charged commentary.
McCormack also teased that i the revival, his character Will will actually have gotten it together.
"I'm excited to see Will as a gay man who's no longer figuring it out. There's a confidence that will come with that," he said.
We truly can't wait until Will & Grace is back on our screens, and we finally get to revisit some of our fave characters. If that trailer is anything to go by, it's going to be pretty special.