There was an epic "Baby-Sitters Club" movie reunion, and it's everything we've ever wanted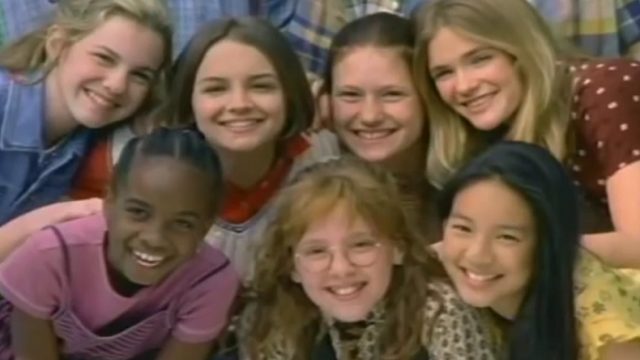 If you've ever found yourself with the strange earwig of "the brain, the brain, the center of the chain," you are not alone. Sure, we knew the cast of The Sisterhood of the Traveling Pants remained tight, but it turns out that the stars of The Baby-Sitters Club movie reunite on occasion and consider themselves to be close friends.
While they didn't manage to reunite the entire cast, they got pretty close — Rachael Leigh Cook, Bre Blair, Larisa Oleynik, and Schuyler Fisk met up with their past movie director Melanie Mayron to watch the 2018 Golden Globes together. Notably missing were Stacy Linn Ramsower, who played Mallory, Zelda Harris, who portrayed Jessi, and Tricia Joe, who brought the character of Claudia Kishi to life. But even though they didn't manage to make it, it doesn't mean that the other girls wouldn't have welcomed them with open arms.
"I really hope they know that they are missed," Cook said to Entertainment Tonight.
Cook also mentioned that the gang, who also got the opportunity to meet up at the Alamo Draft House Theater in Austin, Texas during a reunion screening a few years back, considered making a "spoof" of the movie — but only because they miss hanging out together on set. Sounds like a pretty good excuse to us.
"This is a club I'm so grateful to be a part of," Fisk, who played Kristy, Baby-Sitters Club president, wrote on Instagram. "These women have my heart...and all my secrets."
Fisk isn't exaggerating. In fact, Cook noted how the girls were quite real with each other when they initially met back in the '90s, and perhaps that's why they feel comfortable divulging everything to each other.
"I think we all trusted each other enough back then, even as young teens, to behave like our authentic selves," she told Entertainment Tonight. "So for better (them) or worse (me), we're still very similar to the people we were back in 1995."
Oleynik, who played Dawn, also shared the photo online. Her caption was, "I'm super bad at posing for photos, but also super good at loving these women until my heart bursts wide open, so I guess the latter wins out." (We have to disagree with her, regarding posing.)
Cook noted that the girls met up at Mayron's house to watch the awards show, which we absolutely love. She said that they stopped chatting in order to watch Oprah's powerful speech, all in all making it the perfect night to celebrate women.
To refresh your memory, here's a trailer for the 1995 film. Chances are, you couldn't wait to see it on television back in the day.
https://www.youtube.com/watch?v=zBmEySbwGsk?feature=oembed
If we could have a movie dream come true, it'd be figuring out where the girls of The Baby-Sitters Club are today. Maybe Melanie Mayron and Ann M. Martin could meet up and make something amazing happen.