The entire world is losing its mind over this rainbow highlighter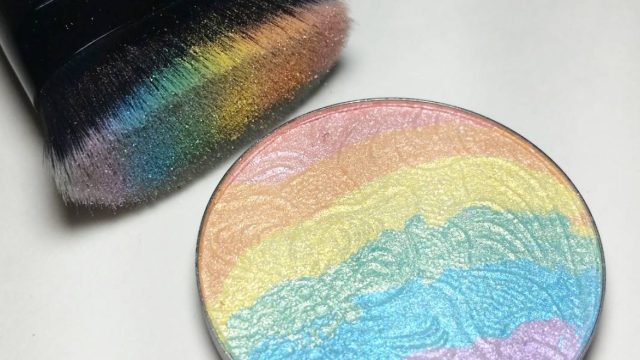 If you want your face to glow with the power of a thousand rainbows, we have some amazing news. There's a new beauty product out there that will help you achieve that exact look, allowing you to ignite your inner rainbow power.
Etsy shop Bitter Lace Beauty is the brains behind this piece of beauty. The specific shade of highlighter we're admiring has been dubbed Prism – and for a good reason! The product looks exactly like the rainbow that results from a ray of light beaming through a prismatic crystal. The best part: it appears that way in the pan and on your face.
"Something kind of funny to mention about myself… Freshman year of high school I used to wear crazy rainbow socks, all the way up to my knees with shorts, looking like Rainbow Brite in action! I walked around thinking I was so cool, and most likely looked like a crazy person!" writes Jenna, the owner of Bitter Lace Beauty, on her shop's Instagram. "Fast forward to present day and I still love rainbows just as much as freshman year… I even wear them all over my face! Everyone should look like they have been licked by a unicorn, don't you think?!"
While we definitely wouldn't mind looking like we've been licked by a unicorn, it's totally okay if that isn't your thing. You can, instead, use the highlighter as a multicolored eyeshadow or you can apply the various colors separately. (We particularly love the gold/yellow hue and the muted pink.)
Now, we have some bad news: due to its viral following, Prism is currently sold out. However, Jenna assured all her Instagram followers that they will have a release date very soon. In that case, we're going to set $22 aside, so we can snag this rainbow beauty the moment it's re-released into the world.