Holiday Rom-Com Super Fan? Here are 5 Engagement Rings You Will Love Based on Your Favorite Flick
These romantic rings will give you all the feels.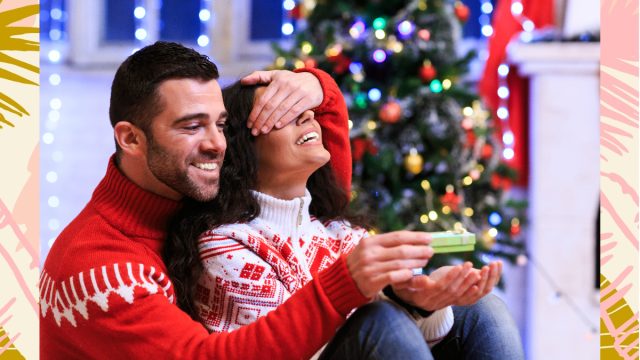 For some of us, one of the best things about the holiday season is all the cheesy romantic flicks you can binge watch leading up to Christmas day. Whether they provide a much-needed distraction from holiday stress and chaos, or you truly just love the plot lines, there's no disputing they make us feel a certain type of way.
Often times, the movie ends with a handsome guy getting down on one knee in front of a brightly lit Christmas tree, surrounded by cheering onlookers. And this isn't just some made up Hollywood fairytale.
You might be seeing your social media feeds blowing up with people getting engaged. In fact, more than 15% of all engagements happen in the month of December, says The Wedding Report.
RELATED: 4 Gorgeous Engagement Rings Under $1,500
If you think your honey is feeling the vibe too, and they just might pop the question, give them the ultimate ringspo with these five engagement ring picks inspired by your fave holiday rom-com. While some of these may not be the optimal choice for someone on a budget, you can use them to spark ideas for what your perfect ring can look like.
1. A Castle For Christmas
Netflix's A Castle For Christmas follows best-selling author Sophie Brown (Brooke Shields), as she fleas to Scotland to escape a scandal, and falls in love with a castle — dealing with its grouchy Duke in the process.
If this is your favorite, you'll gravitate toward an emerald cut diamond with a micro pavé split shank setting.
"Those who like an emerald cut typically enjoy things that are a little more elevated and have an elegance to them, and what's more elegant than a castle!?," asks Jesse deLeon, chief visionary for Liori Diamonds. "The micro pavé setting in this 5-carat stunner is also a good option for those who want to draw a little more attention to their ring- and what's more eye-catching than the light-reflecting small diamonds of a micro pavé setting!"
5-Carat Micro Pavé Ring, $19,475 at Liori Diamonds
2. LoveHard
Do you love Netflix's Love Hard? If you're ambitious for love like the film's main character, an LA writer who falls in love on a dating app and travels 3,000 miles only to discover she'd been catfished, you'd like "a classic round brilliant cut diamond with a wire basket and petite micro pavé band," explains deLeon.
"This feel good holiday flick is the epitome of the modern day dating world with a classic love story that comes out of her dating struggles. She's clearly a lover of a classic love story, so pop the question with a classic round brilliant cut stunner!"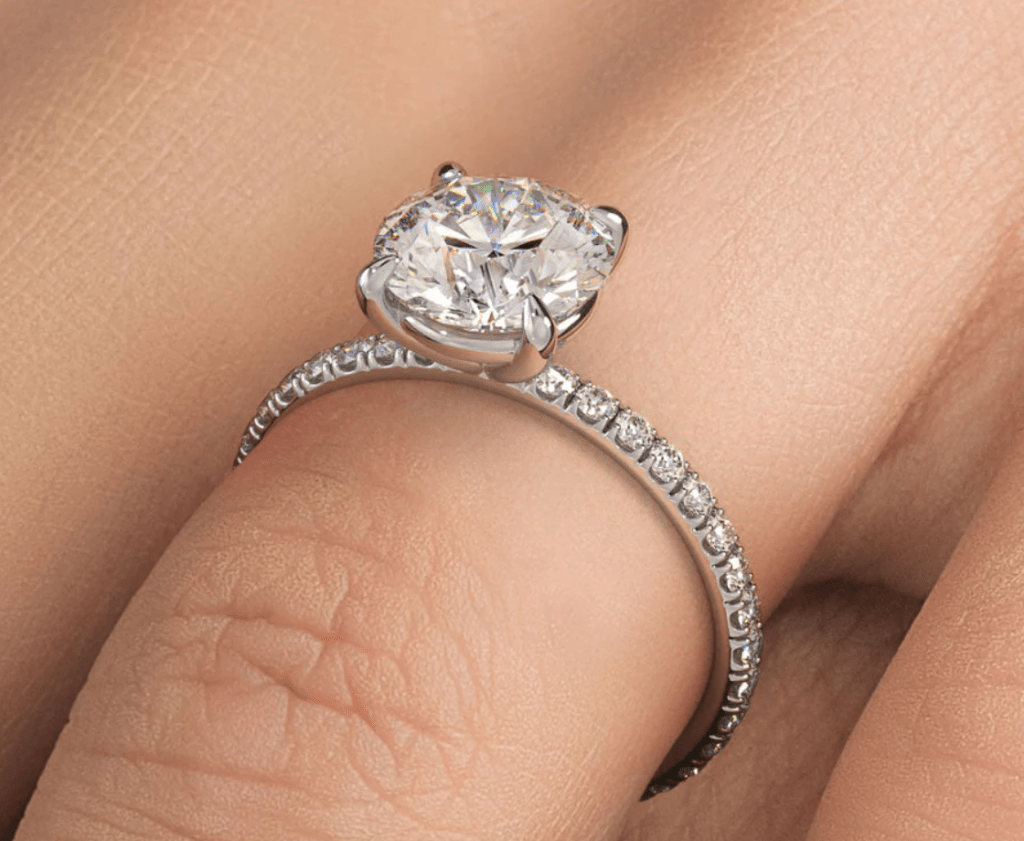 2-Carat Round Brilliant, $4,945, at LioriDiamonds.com
3. The Knight Before Christmas
If you're into The Knight Before Christmas, then you'd surely be into a fancy green diamond ring like JLo's!
"Green diamonds are incredibly rare which is why they are a perfect fit for a love story like this," says deLeon. "Sir Cole and Brooke Winters have a unique and one of a kind love story, and what better way to show that than with a ring that is truly unique and will let your love know that she is one of a kind."
Once Sir Cole's knightly quest was complete, his medallion lights up green letting it be known that he found the one. That's why a green stone is the perfect way to let everyone know your quest for love is complete!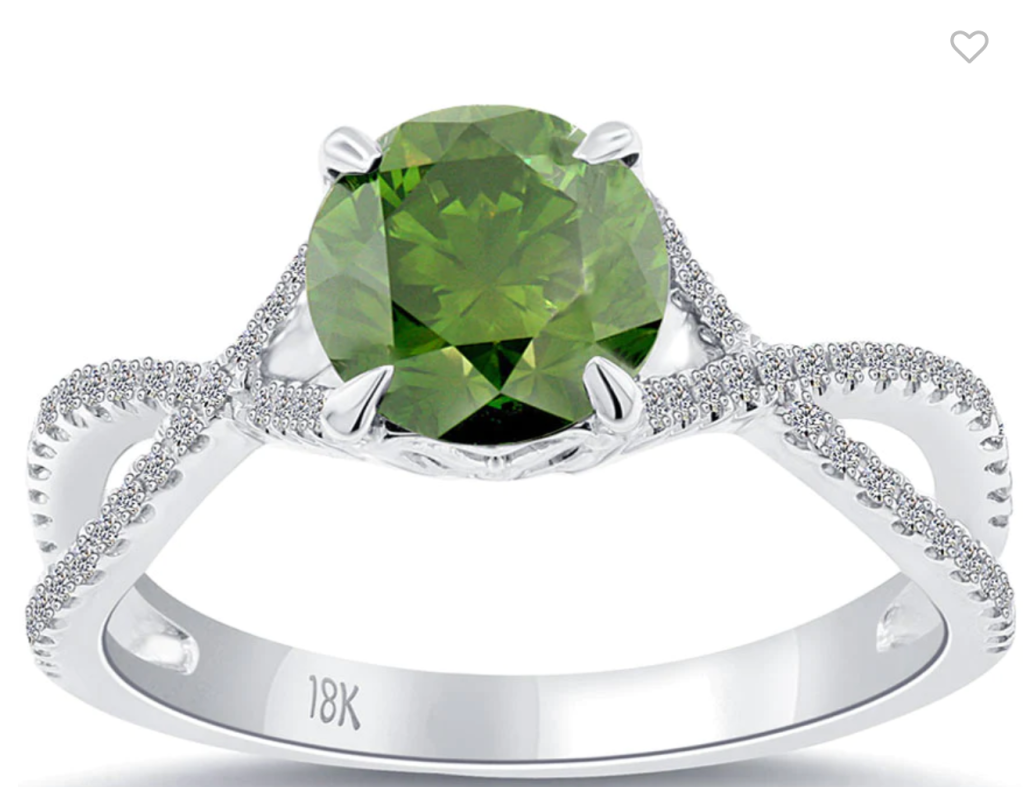 Fancy Green Diamond Ring, $3,499, at LioriDiamonds.com 
4. The Princess Switch
Every girl wants to feel like a princess when she gets engaged. So it's no surprise that The Princess Switch series made this list. And what's better for a wannabe princess, than a princess cut diamond with a petite micro prong set.
"The princess cut offers range and can be paired with many unique designs for the one who wants something that's a little different than a classic solitaire making it the perfect cut for a princess," says deLeon.
Princess Cut Solitaire, $8,950, at LioriDiamonds.com
5. Holidate
When friends become friends with benefits, and then some. If Holidate is your holiday rom-com style, you'll obsess over a cushion cut diamond with a petite micro pavé band.
Sloane and Jackson's love story had a rough and unusual start, but became a thing of beauty as they caught real feelings along the way. "Both being fed up with being single, it's clear they are both romantics which is why this is the perfect pick as cushion cuts really do represent romance," says deLeon.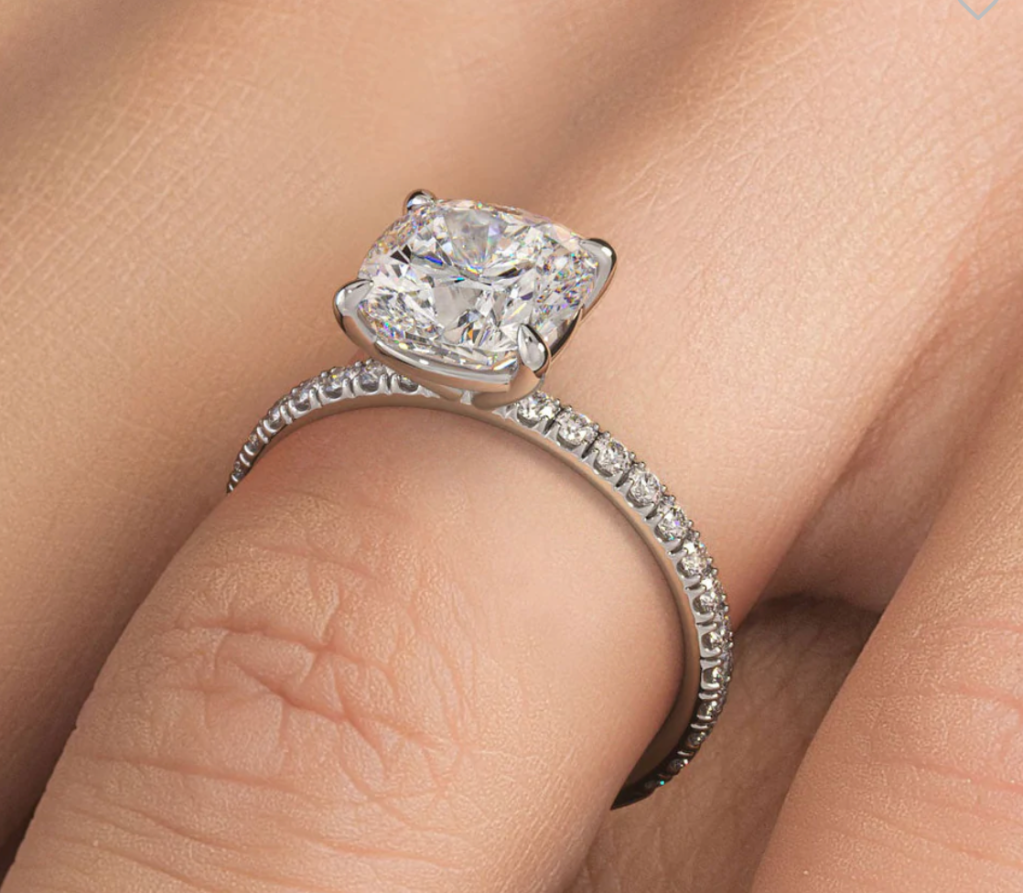 Cushion Cut Ring, $4,150, at LioriDiamonds.com
Jené Luciani Sena is an accredited journalist and internationally-renowned bestselling author, regularly seen on national TV outlets such as Access Daily, Today and Dr Oz. Touted as one of Woman's World Magazine's "Ultimate Experts," she's a TEDTalk speaker and a busy Mom of 4.
Read more