These endometriosis diets may help alleviate severe pain, doctors say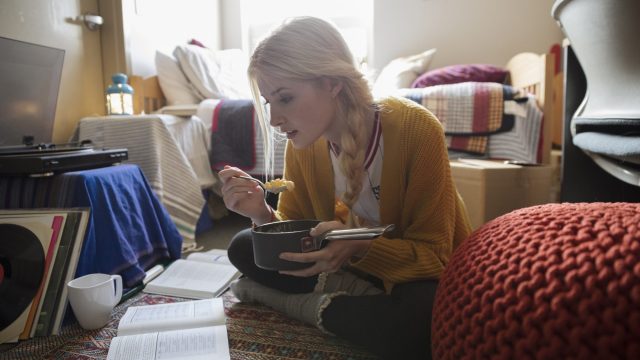 Endometriosis is a chronic and painful disease that affects approximately 176 million women worldwide. It's so common, in fact, that in the United States alone, an estimated one in 10 women are suffering. Sadly, these numbers only reflect the known cases of endometriosis. Many women are still out there suffering in silence. Doctors have found that an endometriosis diet can help alleviate symptoms of the condition, though, and that's good news for sufferers.
As Dr. Rebecca Brightman, an OB/GYN who works with the SpeakENDO campaign, tells HelloGiggles, "Many women go undiagnosed because so many symptoms are chalked up to just 'being a woman.'"
Another major factor in why women go undiagnosed is because some doctors just don't take the time to really listen to their patients. That's why Dr. Brightman says it's important to be aware of the symptoms of endometriosis, speak up, and find a healthcare provider who will actually listen and treat you.
Although it varies, typical endometriosis symptoms include painful bowel movements, painful urination, painful cramps, bleeding or spotting between periods, heavy menstruation, bloating, fatigue, pelvic pain, and feeling sick or faint during your period, among others.
The good news is, it is manageable if you get the treatment you need. According to Brightman, treatment needs to be individualized. "It's not a one-size-fits-all disease," she says. While some women can manage with medication, others, like Lena Dunham, might need surgery.
Other women can benefit from a specific endometriosis diet.
"We definitely recommend healthy diet and exercise for all women," Dr. Nicole Mahnart, an OB/GYN at the Banner University Medical Center in Phoenix, tells HelloGiggles.
She adds, "Some women with endometriosis find that specific diets (i.e. low in dairy and gluten) can be helpful for endometriosis-related pelvic pain. Women with endometriosis more commonly may have IBS (irritable bowel syndrome) symptoms and the FODMAP diet may also be helpful. Exercise and mindfulness are helpful for everyone, especially those dealing with stress or pain."
In short, it's all about maintaining a healthy lifestyle, which includes eating right and being active.
It's important to know that the disease is just something you have, not something you can "catch" or something you "brought on yourself." According to the Endometriosis Foundation of America, there is no proven cause to explain why endometriosis exists. There are theories, but nothing solid. For many, it's genetic. For others, it's an immune system response.
March may be National Endometriosis Awareness month, but it's not only important to be aware of the disease now, we've got to keep talking about it. According to Brightman, it can take anywhere from six to 10 years for a woman to be diagnosed with endometriosis. So speak up.
Severe pain during your period is not normal. Experiencing pain during sex every single time is also not normal. If we keep talking openly about the disease, hopefully more women can seek out the help they truly need.