We are in love with the emotional support duck that someone brought on their flight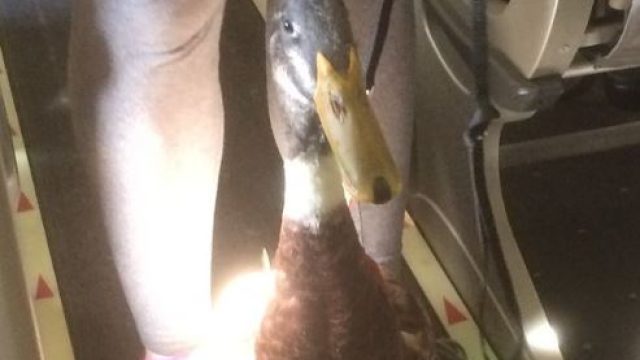 We're accustomed to seeing dogs and cats, including emotional support animals, on commercial flights — but I'd venture a guess that most people have never met an emotional support duck.
That all changed for a group of lucky passengers who were fortunate enough to be on the same flight as Daniel, an emotional support duck who travels with his owner to offer comfort and keep him calm.
Mark Essig, an author, historian, and animal lover, was on the same flight as Daniel and he snapped some of the most adorable photos of an emotional support animal in history. Essig knows that no one should be deprived of these priceless images, so he was kind enough to share them with us on Twitter.
Please note those dapper red shoes and that Captain America diaper — Daniel is a duck who travels in style.
false
Although emotional support companions tend to be dogs, any domesticated animal can take on this important role as long as the owner provides a letter from a mental health professional confirming he or she has a psychological disorder. Emotional support animals can accompany their owners to places where animals aren't normally allowed, such as restaurants, stores, and (in Daniel's case) commercial flights. false
Essig confirms that, in addition to being an exceptionally cute duck, Daniel successfully performed his job duties. Sure, he spent some time gazing into the clouds — but his owner sought comfort multiple times by kissing Daniel on his beak. The duck kept his quacking to a minimum, which proves that he knows how to mind his manners.
false
I'm normally not a fan of flying, but perhaps I'll spot an emotional support duck like Daniel during my next plane ride. Anything's possible, right?