11 snubs and surprises from the 2018 Emmy Nominations — and one EGOT alert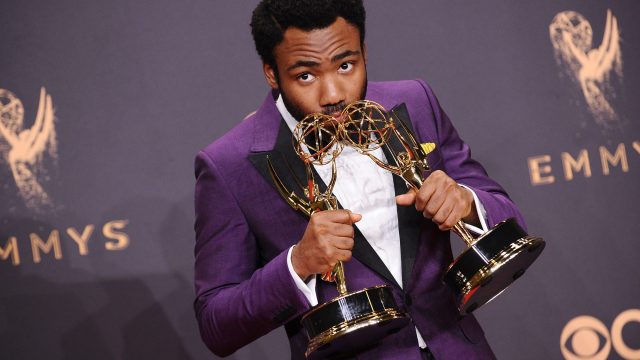 This morning, the nominations for the 70th Annual Emmy Awards were announced — and, as always, they were filled with a number of shocking snubs and surprises.
After being ineligible last year, Game of Thrones unsurprisingly walked away with the most nominations, picking up 22. While Nikolaj Coster-Waldau scored his first nomination for his work on the long-running series, stars Kit Harington and Emilia Clarke were the series' biggest Emmy snubs. Other highly nominated shows were Westworld and Saturday Night Live, each picking up 21 nominations, with The Handmaid's Tale picking up 20.
But while Game of Thrones was back in the running this year, for the first time in nearly two decades, HBO didn't garner the most nominations. While the premium cable network has walked away with the most nominations for the last 18 years, this year, Netflix topped it by just four nominations. The streaming platform picked up 112 total nominations while HBO scored 108.
Here are just a few of the biggest snubs and most deserved nominations.
Deserved: Sandra Oh
Sandra doesn't have to deliver top-notch performances in everything she does but she always comes through, even when we don't deserve it. With her nomination for Best Actress in a Drama Series for Killing Eve, Oh made history as the first Asian actress to be nominated for a leading acting role. Frankly, it's pretty embarrassing that in 2018, we're still having firsts like this. Sandra Oh is so masterful in Killing Eve that she not only deserved this nomination but she deserves to win.
Snubbed: The Good Place
The NBC series finally picked up its first Emmy nominations for Ted Danson (Lead Actor in a Comedy Series) and guest star Maya Rudolph (Guest Actress in a Comedy Series). However, considering The Good Place should be showered with nominations, it's nothing short of a travesty that the series continues to be under-appreciated and overlooked.
Deserved: Tiffany Haddish
Tiffany Haddish honestly deserved Emmy nominations for announcing the Oscar nominees last year and her incredible follow-up performance as a presenter at the award show. However, we'll settle for the Emmy nod she earned for hosting Saturday Night Live, which was easily a season highlight.
Deserved: Issa Rae
Issa Rae is finally an Emmy nominee. After being unjustly snubbed during Insecure's first two seasons, the series secured its first nomination for Lead Actress in a Comedy Series. That being said, the show's single acting nomination proves it's still being wildly overlooked.
Deserved: Diana Rigg
Before we retire the phrase for good, let it be said that Lady Olenna Tyrell has the biggest dick energy in the history of BDE. Season 7 of Game of Thrones was dizzyingly fast-paced and full of action-packed moments, but one of the most badass moments was by far Lady Tyrell facing her impending death by casually dropping a major bomb to Jaime Lannister in revealing that she was behind Joffrey's death.
Deserved: Sterling K. Brown
Sterling K. Brown could just sit there and eat a sandwich on camera and it would rightfully be one of the most critically acclaimed performances on television. Simply put: there's nothing he can't do. The reigning Best Actor in A Drama Series scooped up another nomination for his performance as Randall Pearson in This Is Us. He additionally scored a guest actor nod for his hilarious performance in the latest season of Brooklyn Nine-Nine.
Snubbed: Brooklyn Nine-Nine
Brooklyn Nine-Nine is consistently one of the smartest sitcoms on network television but somehow it keeps getting snubbed. From a wonderful ensemble cast — Andre Braugher has been nominated twice for his role of Captain Holt, though has yet to win — to incredibly relevant and important storylines, it's a crime that the series keeps getting passed over. Hopefully next year, its new home at NBC will give it the awards season campaign it deserves.
Deserved: Kenan Thompson
FINALLY! Kenan Thompson has spent most of his life being one of the best sketch comics in history. After 15 stellar seasons on Saturday Night Live, he finally picked up his first Emmy nom. This is so long overdue that if he doesn't win, it's going to be very upsetting.
Snub: American Vandal
A mockumentary begging the question "who drew the dicks?" is always going to be a long-shot for awards season, even though it really deserves all the awards. The premise seemed silly, but it was, without a doubt, one of the smartest and funniest spoofs on our obsession with true crime documentaries. Unfortunately, a Peabody Award couldn't translate into an Emmy for Best Limited Series. However, American Vandal did pick up a single writing nomination so in a way, it's still a bit of win for the hilarious satire.
Snub: Late Night with Seth Meyers
The Variety Talk Series category has grown increasingly competitive, but it was still disappointing to see Late Night absent from the nominee list. The series is full of talented writers that are given the opportunity to shine on-camera — often poking fun at their extremely straight, white male boss — and the show manages to be smart and funny every night, which is not an easy feat with our exhausting news cycle.
Deserved: The Crown
In their final performances with the series, the cast of The Crown walked away with a number of nominations. Claire Foy was once again nominated for her performance as Queen Elizabeth, while Matt Smith and Vanessa Kirby each picked up nods for their work as Prince Philip and Princess Margaret. New addition Matthew Goode also picked up a guest actor nomination, and of course, the series will compete for Best Drama Series.
Yasss queens
Queer Eye snagging one nomination would be amazing, but Queer Eye snagging four nominations? The Netflix series was nominated for: Outstanding Structured Reality Program, Outstanding Casting For A Reality Program, Outstanding Cinematography For A Reality Program, and Outstanding Picture Editing For A Structured Or Competition Reality Program. On top of that. Mr. Jonathan Van Ness snagged two Emmy noms himself, one for Queer Eye and one for Gay of Thrones. Can you believe?
EGOT Alert
NBC's musical extravaganza Jesus Christ Superstar picked up a whopping 13 nominations this year, including Outstanding Variety Special (Live) and acting nods for John Legend, Sara Bareilles, and Brandon Victor Dixon. A win for Outstanding Variety Special (Live) would see Legend, Andrew Lloyd Webber and Tim Rice — respectively, the musical's composer and lyricist — who served as executive producers on Jesus Christ Superstar, complete their respective EGOTs. Legend has an additional opportunity to complete the coveted award quartet with his acting nomination.