All cat owners can relate to this pic of Emmy Rossum's cat taking over her dinner table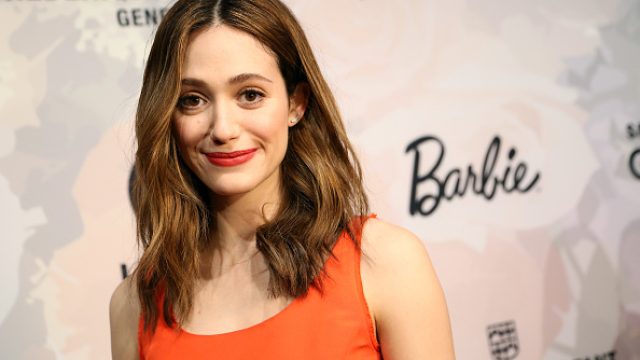 This Thanksgiving, beloved Shameless actress Emmy Rossum fed the homeless on Los Angeles' Skid Row, inspiring us all. Seriously, her good cheer, even when faced with anti-semetic remarks and intense adversity, gives us serious #lifegoals. Of course, we know she is surrounded by those who love her. In fact, she became recently engaged to Mr. Robot creator Sam Esmail, who proposed to her when she was in the bathtub! How cute is that?
Of course, there are some creatures in Emmy Rossum's life who can be just as frustrating as they are lovable. And one of them happens to be her adorable cat, Fiona G. Kitty.
Clearly, Emmy Rossum's cat doesn't care about keeping the table nice for Thanksgiving
Fiona G. Kitty has a long history of misbehaving. As Rossum explained to People,
"She's used to being outside, so she really wants to be outside. She's run away a couple of times from my house.
The fact that she also owns a pet Yorkie named Cinnamon was also a bit of an adjustment for Fiona.
"I think she tries to play with him. She tries to punch him in the face and then run away and see what he'll do, but he just takes it. He's whipped. They're getting along better [now], but the cat is growing and is now bigger than my dog, so she's definitely a tough cookie.
Fiona G. Kitty's unruly behavior is just the beginning of Rossum's several Thanksgiving mishaps. She's taken to Twitter to share some of her hilarious exploits:
Emmy Rossum will never again brine a turkey.
https://twitter.com/udfredirect/status/801799702026948608
She explains why:
https://twitter.com/udfredirect/status/801800360700440576
Thank goodness for back up turkeys.
https://twitter.com/udfredirect/status/801800481521569792
Yikes, this doesn't sound good:
https://twitter.com/udfredirect/status/801801438783381504
Luckily, she gets a happy ending!
https://twitter.com/udfredirect/status/801819381294460930
We wish we could be a fly on the wall for Emmy Rossum's Thanksgiving celebration, it sounds like quite the comedy of errors. Nonetheless, we have no doubt that her Thanksgiving will be magical and full of love.