Emmy Rossum revealed the romantic way her husband Sam Esmail proposed
ICYMI, actress and Shameless star Emmy Rossum is now a married lady. She recently wed her love, director and creator of the show Mr. Robot, Sam Esmail.
According to Emmy, one of her and Sam's favorite pastimes is to read The New York Times "Modern Love" section together. Even if they aren't in the same place, Emmy makes a point to call Sam and read it aloud to him. He apparently loves to hear her interpretations of the people in the stories.
On the night they got engaged, Emmy wasn't feeling well, so when Sam asked her about reading the paper, she protested. When he didn't let up, she agreed, but only if he would let her read it from the bathtub.
"I began to read the article, and the story is about a director who falls in love with an actress, and I started to think: Huh, that's strange," Emmy recalled. "And then I realized that it was our love story."
"At first, I freaked out because I thought perhaps he had actually put it in the paper and I hadn't seen it, and everyone knew it but me," she continued. "And then, I kind of scanned to the end and it said, 'Love, your Sam.'"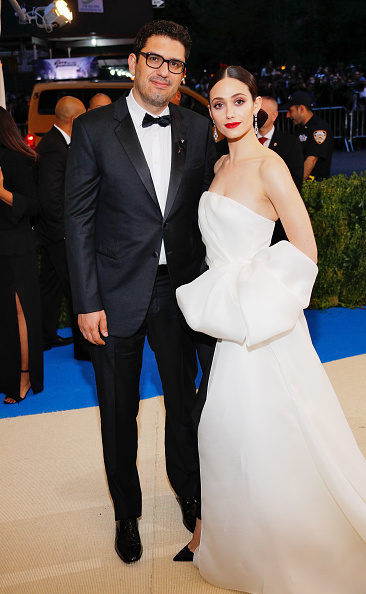 All together now…"AWWW!!"
Emmy then explained that her super sweetie had gotten in touch with an editor of The New York Times to replicate the section of the paper, complete with an ad for a Ralph Lauren bag that she liked. Once she realized what was happening she panicked a little.
"I somehow thought, 'Well, the story can't be that I was in the bathtub when it happened.' So I got out of the bathtub wrapped in a towel, got cold, and then got back in the bathtub because the stories are quite long," she explained.
By the time she finished reading, Sam was at the edge of the bathtub with a vintage, (circa 1920) Chaumet diamond engagement ring that they had seen in a jewelry store together two years prior. How absolutely sweet. Congrats to Emmy and Sam!