7 things we hope to see at the 2017 Emmy Awards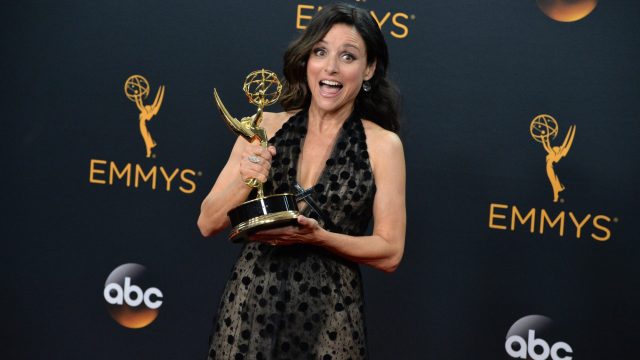 The 2017 Emmy Awards are happening this Sunday, and with so many of our favorite shows nominated, we have officially reached peak excitement.
But acceptance speeches from the stars of Westworld, This Is Us, Stranger Things, and The Handmaid's Tale are not the only things we're hoping to see at the 2017 Emmy Awards. From the over-the-top red carpet fashion to political jokes that immediately go viral, here are some of the moments we are looking forward to.
1Mandy Moore's engagement ring
Our girl Mandy is really having a banner year. In addition to all her This Is Us career success, she also got engaged to her boyfriend, musician Taylor Goldsmith. And while there have been some grainy paparazzi shots of her engagement ring, we would love to see her on the red carpet on Sunday and get a good look at her new bling.
2Some red carpet fashion risks
Fashion experts are predicting that there will be a lot of sequins, fringe, unusual fabrics and textures, and long sleeve gowns at the Emmy Awards on Sunday. We have particularly high hopes that the celebs will take some risks on the red carpet. Please let at least one actress give us a Cher or Björk-style look to gawk over.
3Political zingers from Stephen Colbert
Stephen Colbert is hosting this year, and let's just say, he's not exactly a fan of President Donald Trump. So there's a good chance that Colbert will take a few swipes at the White House. He may not be the only one, either. With other outspoken stars like Jane Fonda and Shailene Woodley presenting, there might be more than a few controversial moments on stage.
4Alec Baldwin as Donald Trump
We have our fingers crossed that when Alec Baldwin comes out to present an award, he's fully dressed in his SNL Donald Trump costume. That would be huuuuge.
5Samira Wiley taking home Best Supporting Actress
No disrespect to other nominees in the Outstanding Supporting Actress in a Drama Series category, but Samira Wiley crushed it this season as Moira on The Handmaid's Tale. (And that's after turning out some amazing performances as Poussey on Orange Is the New Black.) So we hope that the Emmy judges recognize her talent and give her a statue to take home on Sunday.
6A "showdown" between Julia Louis-Dreyfus and Allison Janney
Another actress category we are excited to watch is the Outstanding Lead Actress in a Comedy Series category, where Veep star Julia Louis-Dreyfus will be taking on Mom's Allison Janney. Both actresses have seven previous Emmy wins, so if either win this year they will tie Cloris Leachman's record for the most acting Emmy wins ever!
7A touching In Memoriam tribute
Considering we lost legends like Mary Tyler Moore, Debbie Reynolds, Carrie Fisher, and Florence Henderson this year, we are going to have a box of tissues on hand for the "in memoriam" segment of the show.