Emma Watson revealed the "Harry Potter" cast has a group chat, and, FOMO alert!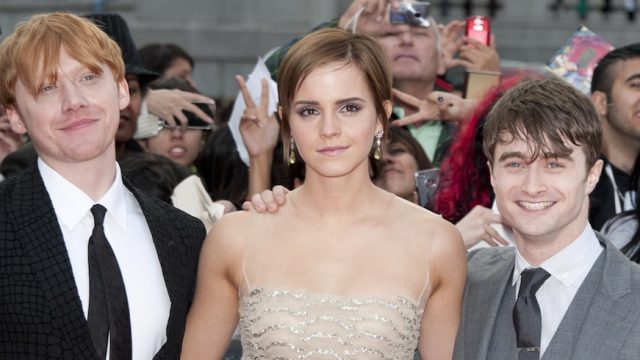 In the years that have passed since Harry Potter graced our movie screens, we like to think that the cast keep in touch. And hey, they DO! At the L.A. premiere of Beauty and the Beast, Emma Watson told Entertainment Tonight that the 'Harry Potter' cast have an active text chain on WhatsApp, and this makes us so wonderfully happy.
"We actually have a group WhatsApp which invited everyone really from the main cast from Harry Potter to come to the screening [of Beauty and the Beast]. It's a case of trying to, like, get people into the right places, but yeah, everyone has been very supportive and I'm very supported by my old co-stars," she told ET.
And our thoughts on this little bit of Harry Potter insider trivia?
Um, quick question…how can we be included in this group chat?
Seriously though, we're so glad that they're all in touch on a regular basis, because as Watson says, they're all working on different projects all over the place and it would be easy to just fall out of the communication loop. But Harry, Hermione, Ron, and the whole gang are bonded forever!
via giphySpeaking of working on projects, everyone from Harry Potter is doing incredibly cool stuff. Aside from Watson and her Beauty and the Beast whirlwind, Daniel Radcliffe continues to choose super unique projects (we still think about Swiss Army Man every day), and Rupert Grint has been in many episodes of the TV shows Snatch and Sick Note. Then there's Tom Felton, who's also going to have a busy year with back-to-back films. Basically everyone is kicking butt.
Now, back to this WhatsApp group chat. Any chance we could get a glimpse of it, Emma?