Emma Watson invited this extraordinary feminist to the Golden Globes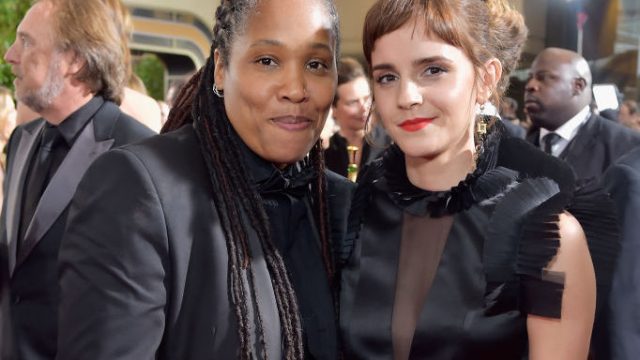 If you're watching the 2018 Golden Globes, you may have noticed a fresh face walking the red carpet with Emma Watson. Watson and several other actresses, are sharing their spotlight with women who are leading the fight for justice. But exactly who is Marai Larasi, the woman walking with Emma Watson? First of all, she is the executive director of Imkaan, a feminist organization in the United Kingdom. For 23 years, she has been working to end violence against women and girls. And because of her work, she is a member of the Royal British Empire.
"If we are to end violence against women and girls, we need to create seismic shifts across our social norms, says Larasi.
Marai Larasi's work centers on black and minority ethnic women in the United Kingdom. These women constantly face abuse and discrimination, and so Larasi focuses her work around them — women who are often forgotten. Most importantly, she understands the need for intersectionality within the fight for justice.
https://twitter.com/udfredirect/status/950115544652550145
In an interview with UN Women, Larasi discusses the discoveries she made:
"I somehow understood that the journeys of BME [Black Minority Ethnic] women and girls were being shaped by exclusion and marginalization in different ways to our counterparts."
When BME women don't get a voice, they are not in control of their own stories. And if they're not telling their stories, who is? Though Larasi is based in the U.K., her work is international. Recently, she began working with the UN outside of the U.K.; her work is now spreading to the Western Balkans and Turkey.
Most of all, women of color need inclusion. We cannot continue to discuss women's rights and not explicitly include them. As Larasi says, they don't often get to talk for themselves. Hopefully, her exposure will now begin a dialogue, and we can all move forward together.