Emma Watson just declared it's fall season with this chunky AF sweater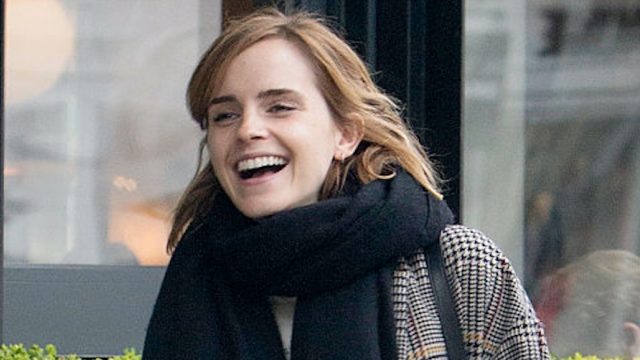 When Emma Watson isn't busy filming major blockbuster movies or delivering incredibly moving speeches for the United Nations, the impressive young woman can be found wearing some of the cutest (and most inspiring) outfits ever.
 A recent post with a gorgeous, chunky sweater on her Instagram page confirmed that sweater season is officially upon us and we could not be more excited about putting the cozy clothing on our bodies.
https://www.instagram.com/p/BLGwhxrgtS0
Of course, like most of what Emma does, there was more motivation behind the clothing choice than just keeping warm. Her caption talks about exactly where her sweater came from and why it's so all-around-inspiring.
She writes, "Cable sweater by @zady. It's made from biodegradable, certified organic wool from non-mulesed sheep in Argentina and naturally coloured Alpaca from Peru (so they have removed the need to use chemical dyes). It was knitted just outside Los Angeles by a family run company. Zady's (sometimes long) supply chains are a true example of how fashion companies can really become transparent and traceable. Sweater available to pre-order on zady.com"
This isn't the first time Emma has worn a Zady-themed outfit. She rocked another totally eco-friendly outfit during a different part of her latest #HeForShe United Nations appearances, and looked amazing while doing so.
Zady isn't the only environmentally friendly and sustainable clothing organization Emma sports. She paired her fall sweater with some totally cute trainers that were also made by a sustainable-centered brand, Veja.
She continued her explanation in her caption, writing, "Trainers by @veja, who use innovative, ecological materials, working closely with the people who produce them to try and create an economical, ecological and social difference. These trainers use recycled plastic bottles to create the upper, and #wildrubber in the soles (#wildrubber is a project that seeks to increase the value of wild rubber to local tappers)."
https://www.instagram.com/p/BLMCTxqlNRe
Leave it to Emma to not only wow us with her incredible style, but to also expand our environmental horizons by reminding us you can make easy fashion choices that will look beautiful ~and~ help make a positive difference.