Emma Watson and "Glee's" Chord Overstreet appear to be dating, and there are pics to prove it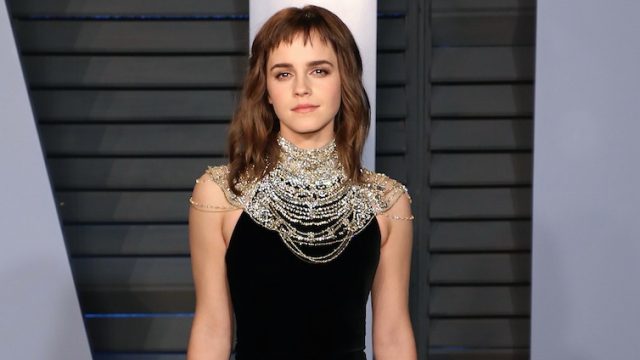 Rumors have been swirling since the pair left the Vanity Fair Oscar party together, and it now seems to be officially official: Harry Potter's Emma Watson was spotted holding hands with Glee's Chord Overstreet in L.A. on Thursday, March 8th.
The pair looked unabashedly coupley, smiling and cuddling as they walked through the streets. The show of PDA is a departure for the usually intensely private Watson. In an interview with Vanity Fair last year she revealed some thoughts about dating in Hollywood:
"I've noticed, in Hollywood, who you're dating gets tied up into your film promotion and becomes part of the performance and the circus. I would hate anyone that I were with to feel like they were in any way part of a show or an act."
In the same interview, she noted,
"I want to be consistent: I can't talk about my boyfriend in an interview and then expect people not to take paparazzi pictures of me walking around outside my home. You can't have it both ways. (At the time, Watson was reportedly dating a guy who worked in Silicon Valley).
Watson and Overstreet were spotted together back in February at a Nathaniel Rateliff & the Night Sweats concert, but other than that we don't have any details on how long they've been hanging out — either as friends or romantically.
At this point, neither star has posted about the other on their social media feeds, and we highly doubt that will happen even if both parties officially confirm the romance. Overstreet appears to have deleted all his Insta pics altogether, though he was previously dating actress Brooke Butler, who still has a couple photos of him up on her account.
https://www.instagram.com/p/BMRtUIFjhMo
You can see the pics of Watson and Overstreet walking hand-in-hand here.