Emma Watson compared Taylor Swift to Little Women's Jo, and this actually checks out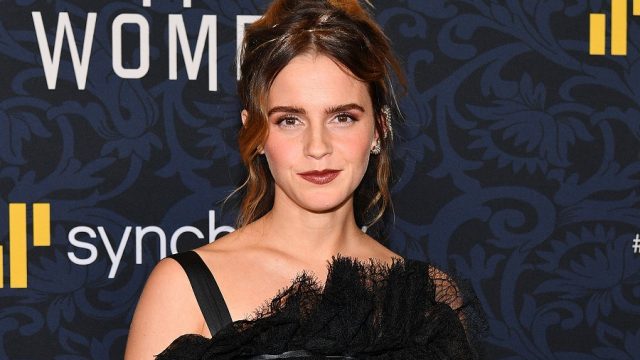 Little Women may have been published in 1868, but some of its major themes and plot points remain shockingly relevant here in 2019-going-on-2020. (Which may also explain why Greta Gerwig's film adaptation of Little Women has been killing it at the box office since its Christmas Day release.) Case in point: Emma Watson drew parallels between Jo March's request for the copyrights for her first novel with Taylor Swift's current copyright dispute with Scooter Braun and her former label, Big Machine Records.
Watson, who stars in the new film as the eldest March sister, Meg, talked to Variety about the prescience of Louisa May Alcott's seminal novel—particularly, Jo's progressive decision to take ownership over her work.
"I think people undervalue ownership...it's about believing in yourself and knowing your worth and owning your work, Watson said in the red-carpet interview. "Right now, the Taylor Swift situation is a great example of, you know, you're young and you're talented and someone wants to buy your work, but having ownership at the end of the day is super, super important because you don't know what someone's going to decide to do with that."
As a quick reminder, Taylor Swift has been publicly battling with music manager Scooter Braun, whose investment company Ithaca Holdings bought out Swift's former label Big Machine Records—and, with it, the masters to her entire discography since signing with the label in 2006. That gives Braun the legal right to control if and when Swift can use and perform her own work.
Earlier this month, the singer called out Braun in her Billboard "Woman of the Decade" acceptance speech. She revealed that neither Braun nor any of the investors involved in Ithaca Holdings consulted Swift on the buy-out, which obviously has seismic repercussions on her career. Not to mention the purely moral fury that Swift and her supporters are experiencing in reaction to the prospect that Braun is the legal owner of Swift's life's work.
Obviously, Swift is not the only woman in this or any industry to bear the brunt of what she called "toxic male privilege" in the workplace. That makes Jo March's foresight to secure ownership over her work even more remarkable, and a seriously inspiring embodiment of feminist ideals. And we thought we couldn't love this version of Little Women any more.