The internet has a few things to say about Emma Watson's braless photo in "Vanity Fair"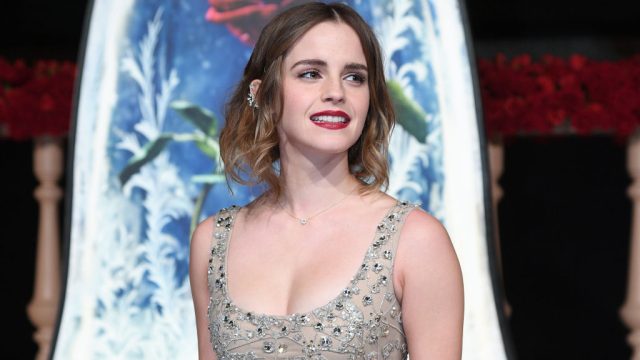 On the latest cover of Vanity Fair, Emma Watson wears a romantic white gown with a fresh, serene face, and the words "Not your mother's Disney princess" appear under her name. Her upcoming role in Beauty and the Beast, which premieres on March 17, has garnered her a lot of attention lately, the majority of which has been positive. This particular magazine photo shoot has ruffled some feathers, though, all because one of the photos features Emma sans bra. If you're scratching your head thinking "so what?" then we're right there with you.
It's 2017 and you'd think successful women like Emma, who is a U.N. Women Goodwill Ambassador, wouldn't have to deal with this kind of nonsense, but alas. Some people are upset about Emma's fashion choices in the Vanity Fair spread, and they're even calling her a "hypocritical" feminist. First, take a look at the pics and decide for yourself. false
Okay, we need to get the obvious out of the way. She looks stunning and angelic in the all-white ensembles by Burberry and Oscar de la Renta. Her makeup is minimal, so you can see the soft freckles on her fair skin, and her hair has been swept back in glamorous waves, reminding us of old Hollywood.
Now to the matter at hand. In the second photo, Emma is wearing a dress that shows part of her breasts. Some people are calling this a "topless" photo that goes against everything Emma stands for. Heaven forbid a woman choose to show some of her own cleavage for once. Radio presenter Julia Hartley-Brewer posted a picture on Twitter with the mock title "Beauty and the breasts" and scolded Emma for not being a serious enough feminist.
Other people chimed in to agree with Julia, but for every accusatory tweet there was an uplifting one from fans that appreciate Emma as both an artist and as a feminist. Because you can show whatever part of your body you want and still fight for equal rights for women everywhere. false
https://twitter.com/udfredirect/status/837178358920249345
https://twitter.com/udfredirect/status/837005672571158543
We're sure Emma won't be phased by the haters, because judging by her interview with Vanity Fair (which is what everyone should actually be paying attention to), she has grown a hell of a lot since her role in Beauty and the Beast.
"I couldn't care less if I won an Oscar or not if the movie didn't say something that I felt was important for people to hear," she told Derek Blasburg. She also said that after she finished the film, she felt like she "made that transition into being a woman on-screen."
It sounds to us like Emma doesn't need to change a single thing about herself.