Emma Thompson penned a powerful letter about quitting Luck after the studio hired an infamous sexual harasser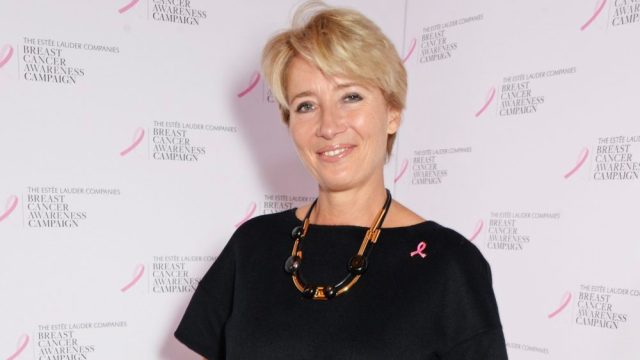 Although the #MeToo movement helped unmask several powerful men accused of sexual harassment and assault, many of these abusers have faced only slight repercussions. However, advocates for survivors have continued to speak out. Most recently, Emma Thompson quit a movie after the studio hired a man who has admitted to past sexual misconduct.
Variety reported that Thompson was set to voice a character in the upcoming animated movie Luck from Skydance Animation. However, the actress withdrew from the role in January after former Pixar CEO John Lasseter was hired as the new head of the animation studio—despite his admitted sexual misconduct. Thompson had reportedly already started recording her part when she opted out. Variety notes that Skydance has not announced the rest of the Luck cast—or who might replace Thompson.
According to The Hollywood Reporter, Lasseter took a leave of absence from Pixar in November 2017, admitting in a memo to staff that he had made unspecified "missteps." The same day, a separate report from THRcited anonymous sources who alleged that the Pixar co-founder was known for "grabbing, kissing, making comments about physical attributes." Lasseter left Pixar and Disney for good in June 2018, as The New York Times reported.
And today, February 26th, The Los Angeles Times shared a letter penned by Thompson outlining exactly why she quit the project. She began the letter by confirming that she did, in fact, exit because of the company's decision to hire Lasseter, and she ended it with several powerful questions:
"If a man has been touching women inappropriately for decades, why would a woman want to work for him if the only reason he's not touching them inappropriately now is that it says in his contract that he must behave 'professionally'?" she asked.
She continued, "If a man has made women at his companies feel undervalued and disrespected for decades, why should the women at his new company think that any respect he shows them is anything other than an act that he's required to perform by his coach, his therapist and his employment agreement? The message seems to be, 'I am learning to feel respect for women so please be patient while I work on it. It's not easy.' Much has been said about giving John Lasseter a 'second chance.' But he is presumably being paid millions of dollars to receive that second chance. How much money are the employees at Skydance being paid to GIVE him that second chance?"
As the reckoning over #MeToo continues, it's crucial for those with power and leverage to use their platforms to speak out. Not everyone is in the position (financially or otherwise) to do what Thompson did—which is why we need more people like her to step up. We applaud her decision, and we hope other stars are taking note.