Emma Stone's pale purple dress is a breath of fantastical air
Emma Stone, star of the upcoming film-musical La La Land, is slated to host Saturday Night Live this Saturday, alongside musical guest Shawn Mendes. In a promotional YouTube video for this week's episode, Stone shows off a whimsical pale purple dress while struggling with an uncooperative elevator door.
Because everything about La La Land nods to the memorable era of the film-musical (between the late '30s and '50s), we're thinking Stone's SNL promo outfit – and antique suitcases – are suitably influenced by that era as well.
The dress has a vintage flair to it with it's necktie, ruffles, and button-up, Leg-of-Mutton sleeves. The black firework pattern adds a bit of sparkle and is definitely reminiscent of 1940s dress detailing.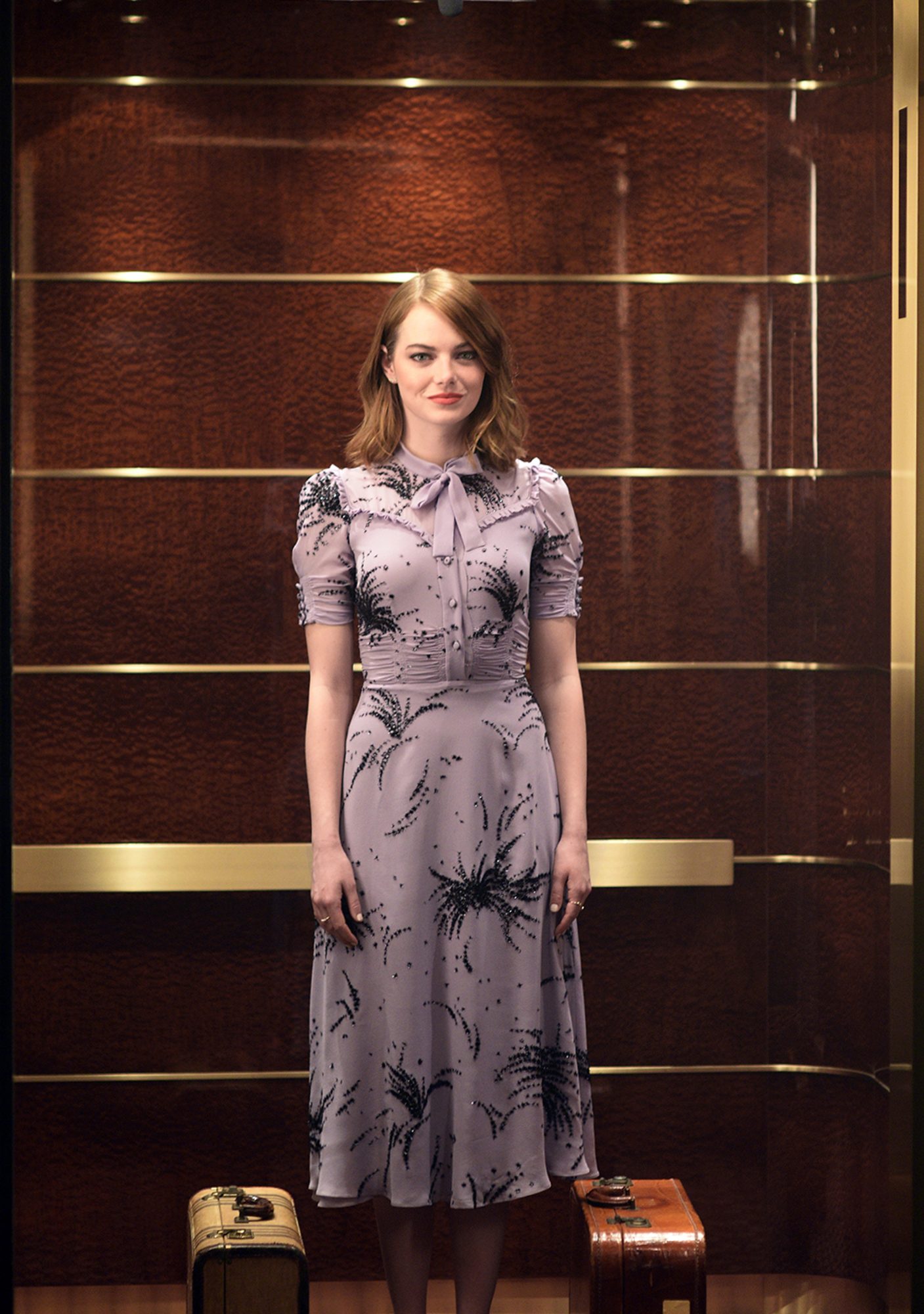 We can just imagine that the SNL writers must have had a heyday writing musical skits for Saturday's episode. Plus, considering that Emma Stone is one of the most lovable returning SNL hosts, we honestly can't wait to see what antics she gets into this time at 30 Rock.
This promo video is seriously getting us AMPED:
https://www.youtube.com/watch?v=QrWLxSyHo6Y?feature=oembed
Stone also appeared on Good Morning America this week, during which she wore a vintage-inspired floral dress similar to that in her SNL promo video. Note the necktie on this little number as well. Are necktie dresses a thing now? If not, they should be because they are pretty darn cute.
Maybe after the release of La La Land on December 9th, we'll be seeing a lot more '40s-inspired outfits. Although the film takes place in present day, costume designer Mary Zophres tapped into earlier retro fashion to connect the contemporary story to the throwback film-musical.
To better understand what we're getting at, check out the trailer for La La Land. Are we about to see a resurgence of the film-musical? Maybe – just maybe.
https://www.youtube.com/watch?v=0pdqf4P9MB8?feature=oembed
We're just so excited for all of it – SNL, La La Land, vintage fashion! It's all too much to handle, but in the best way possible. Tune into Saturday Night Live this Saturday, December 3rd, to laugh along with our girl Emma Stone.