A young Emma Stone doing The House Bunny press in 2008 makes us long for a simpler time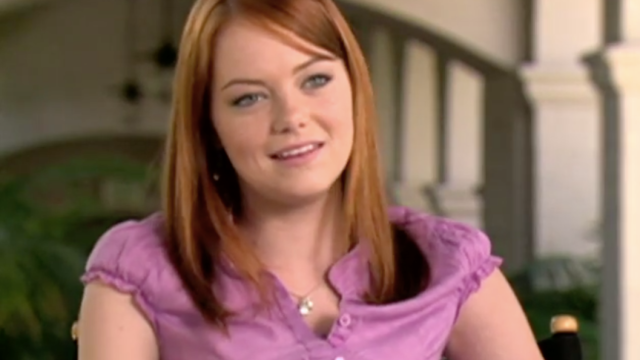 Can you believe its been 10 years since The House Bunny first blessed our lives? The film starred Anna Faris as a Playboy Bunny turned sorority house mom and the rag-tag crew of ladies (Emma Stone, Kat Dennings, Katharine McPhee, and Rumer Willis) she takes under her wing. In this crazy world we live in, we pine for a simpler era filled with mid-aughts PG-13 comedies like this. In honor of the anniversary, we fell down a House Bunny YouTube hole which led us to some epic Emma Stone press interviews for the film. This is the delightful and nostalgic kick you needed on this #ThrowbackThursday.
In the film, Stone plays a socially awkward college student who gets a makeover after meeting Faris's Playboy Bunny character, and then learns that life is about self-love and acceptance and not about getting "hot" to attract men. Watching these throwback interviews with the actress will instantly take you back to your high school and college days, because for a lot of millennial women—we can basically track our own coming-of-age story with Stone's career.
Let the nostalgia wash over you with this 2008 interview with the future Oscar winner.
https://www.youtube.com/watch?v=EkZhjejnDUU
Another fave, Kat Dennings, also appeared in the film and her interviews from the premiere prove she literally does not age.
https://www.youtube.com/watch?v=0uwfu_oOm4Y?feature=oembed
We cannot get enough of Faris either. We know her best from Mom and her musings about marriage on her Unqualified podcast, but in 2008 she sat for this adorably cringey interview for the film.
https://www.youtube.com/watch?v=biU8zxR6MpI?feature=oembed
We'll leave you with the best scene in the entire movie:
https://www.youtube.com/watch?v=QV4Fk1A1VME
If we don't get a House Bunny sequel, at the very least—Stone and Faris need to do a buddy comedy.