You must watch Emma Stone and Kate McKinnon's '90s music video about candles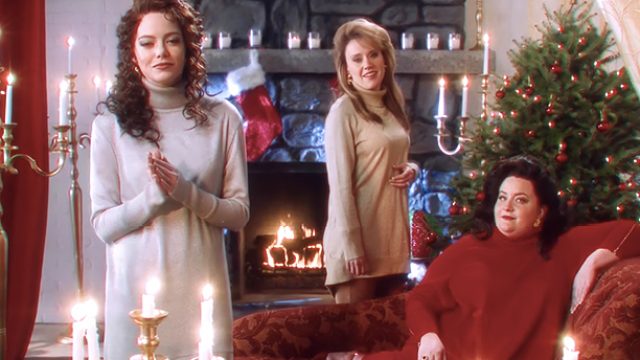 Emma Stone, Aidy Bryant, and Kate McKinnon have released a '90s Christmas video that is all kinds of amazing. The song speaks to a deep human truth that takes a lifetime to navigate with class: the Christmas candle.
Or, "the gift of having a gift to give away."
The video follows the journey of one single peach-scented candle. After beginning on the bottom shelf of a woman's home after having been gifted to her a year ago, the candle rises to become a Christmas Candle. The ladies of SNL (plus Emma Stone, obvs) croon the story of the candle in an epic '90s music video sort of way.
"Thank you candle, the one true candle, the candle we all get then give away."
https://www.youtube.com/watch?v=_L5Xkb78KxY?feature=oembed
Furthermore, a word of advice this Christmas season: Don't go trying to pump the Christmas Candle up.
"When you give a candle that is all that she needs, don't pair it with the lotion or some little cream, a lot of people think two gifts are better than one, but that just makes each seem smaller and dumb."
"So just give the candle, don't overthink the candle, it's passed to every single woman and most gays…"
"…it's the gift of having a gift to give away, the gift of having a gift to give away."