Emma Stone is serving sexy goth cowgirl vibes, and we love this look on her
Giddy up, goth girl! That's what Emma Stone's sexy outfit that she wore on Friday, March 2nd makes us say. The actress looked stunning in a sheer black top that had opaque pockets on the chest and a satin ruffled collar. The combination of a goth pirate and sexy cowgirl may sound like a recipe for disaster, but Stone absolutely rocked it.
That might have something to do with her newly permed 'do, which somehow perfectly matched the ruffled collar on her shirt. She paired the soft waves of her shirt and hair with a chunky black belt and long black skirt, which added a certain severity to the getup and took her ensemble from a look to a full-fledged LEWK.
Stone stunned in the gothic garb at the 11th annual Women In Film Pre-Oscar Cocktail party, which the Battle of the Sexes star co-hosted. As her date, Stone brought Billie Jean King, the real-life Battle of the Sexes tennis star. Also in attendance was Margot Robbie, Viola Davis, Greta Gerwig, Olivia Wilde, Elizabeth Banks, Lea Michele, and more, WWD reports. It sounds like Stone's event hosted a bevy of accomplished, talented women, so it's only right that Stone dressed like a very stylish dominatrix.
Take a look at Emma Stone's perfect black ensemble.
At the event, Viola Davis gave a speech about #MeToo and #TimesUp that brought the whole room to rousing applause.
"This is a year of owning who we are. You either own your story and you share it or you stand outside of it, always hustling for your worth," Davis said. "The privilege of a lifetime is being exactly who we are."
Stone went on the stage after Davis' moving speech and joked, "No one should ever have to follow Viola Davis, ever." Then she added, "And that was off the cuff!" Knowing Stone, she probably also delivered an amazing speech, to match her amazing outfit.
It's fitting that both Davis and Stone wore black to the event.
After women wore black to the 2018 Golden Globes, the color became an unofficial symbol of support for the #TimesUp movement. King wore black too.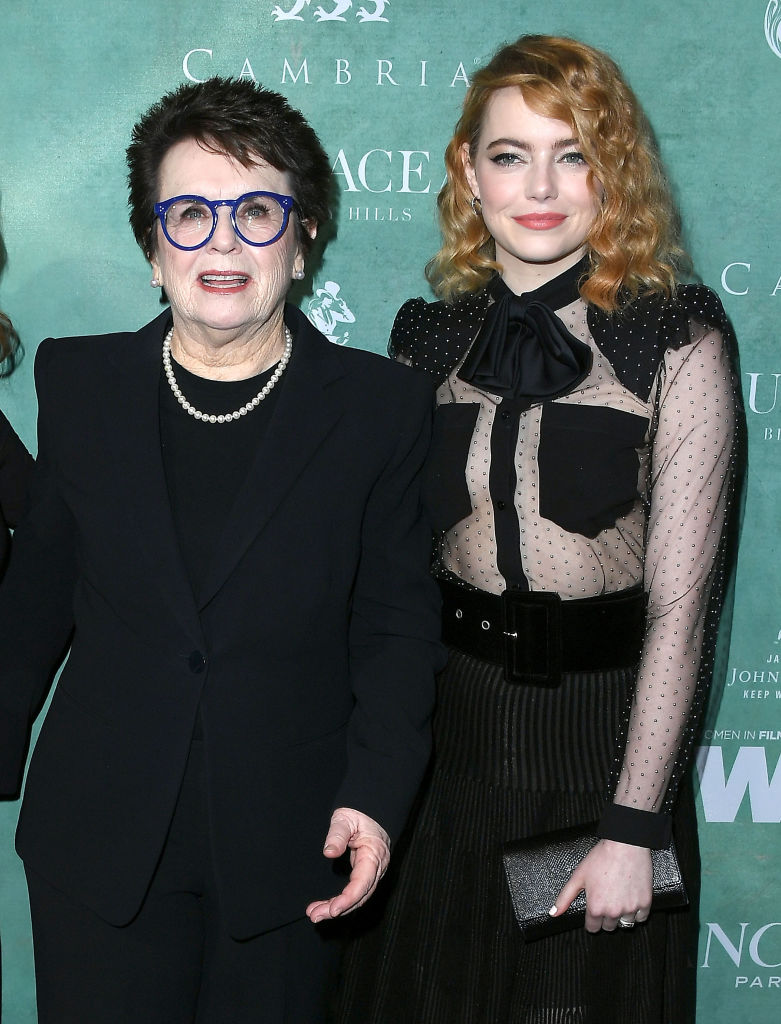 They look so chic. Of course, we didn't expect any less.