Emma Stone looks naked in this photo with Hillary Clinton, and it's adorably awkward
It's usually great to meet your heroes. Emma Stone met Hillary Clinton recently, yet sadly will remember the moment based on one very obvious factor — her outfit choice, because she looks totally naked in the shot.
The two were able to meet up with a little help from Stephen Colbert. Stone and Clinton both appeared on his show, and from the looks of it, they got along quite well. In the photo, they're both holding up T-shirts with the face and winning scores of former tennis pro Billie Jean King on the front, as Stone's next movie, Battle of the Sexes, focuses on the 1973 match between King and competitor Bobby Riggs.
Shared on the Instagram account for The Late Show, the initial (non-naked) photo looks amazing.
But as Stone revealed on the show, some of the photos of the moment were a bit more….revealing than she would have liked.
https://www.youtube.com/watch?v=oDtC_X-id-Q?feature=oembed
The good news is that she seemed to have a sense of humor about it.
"I get a chance to meet Hillary Clinton, which is unfathomable and incredible, and I look like I'm nude," she said to Colbert. "Really? Like...you had one shot!"
Colbert admitted that yes — it does look like she's topless.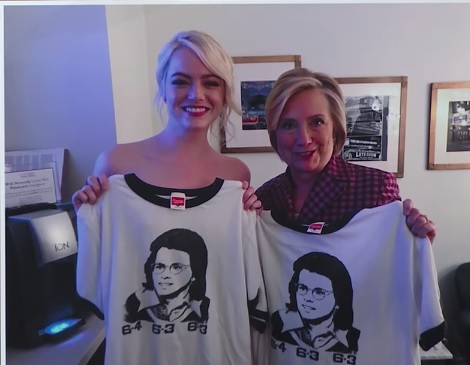 Naked or not, it's a good shot. And since we love both of these women, it's so great that they got a chance to meet.
Stone will be playing King in the new movie and noted that she put on 15 pounds of pure muscle for the role. So really, a strong woman will be playing a strong woman. We'll get a chance to see her tennis skills when Battle of the Sexes hits theaters on September 22nd.