Emma Stone and Justin Theroux hung out with "Queer Eye's" Jonathan, and dear god, please let this be Season 2 — or else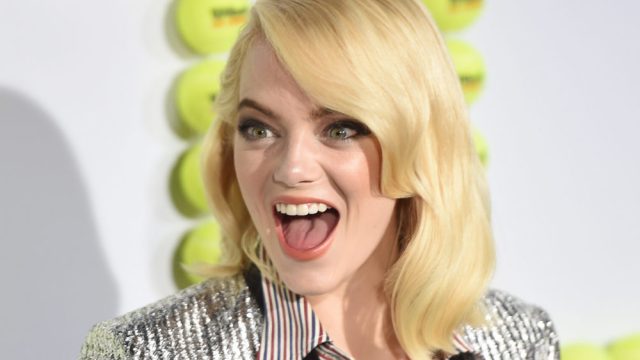 Today in dream celeb BFFs, Emma Stone and Justin Theroux hung out with Jonathan Van Ness from Queer Eye. Can you believe?! Because we barely can. The Queer Eye grooming expert was caught on Instagram with Oscar winner Emma Stone and evil Zoolander DJ Justin Theroux at the premiere of A Quiet Place, and we need more information, like, yesterday.
How do Emma Stone and Justin Theroux know each other? How do they know Jonathan? Will Season 2 of Queer Eye feature Jonathan and Emma sprucing up Theroux post-breakup from Jennifer Aniston? Where was our invite? You know, all the usual questions.
As if this story needed any more imaginary celeb BFFs involved… Oh, wait, it does? Good! Because People reported that Stanley Tucci was also there. And that isn't *as* random as you might think, though; Tucci is married to Emily Blunt's sister!
To be fair, the hang-out might not be *totally* bonkers. Before Queer Eye, Jonathan worked as a celebrity stylist in NYC for years.
He also appeared on Funny or Die series Gay of Thrones, so he's used to the spotlight. Maybe he did Emma's hair? OMG, or Justin's? Do you think Jonathan coached Theroux through his breakup? SPILL IT! The people need to know.
Now, we'd love to get out our giant magnifying glasses and take a look at the body language between Emma Stone and Justin Theroux. But he's *way* ahead of us. The actor posted the snapshot of all three of them to his Instagram story, and insisted that everyone in the photo is "BFFs" with each other.
"And yes," Theroux continued in the caption, "Just BFFs." The actors doth protest too much, we thinks! Maybe we should schedule an appointment with Jonathan. He'll def tell us what's up.