Emma Stone wins the Golden Globe for most awkwardly endearing "hug fail"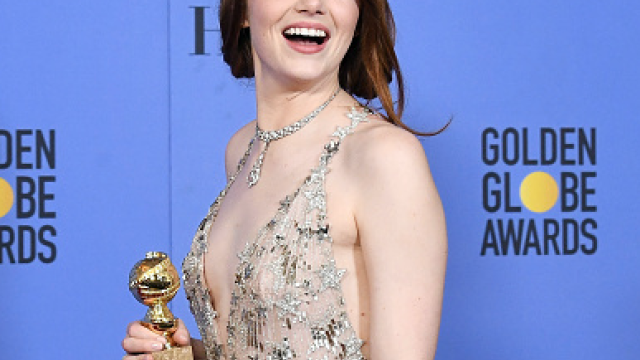 There's no denying that Emma Stone had a phenomenal evening last night at the 2017 Golden Globes. Not only did she look ethereal and beautiful in her Valentino gown covered in glittery silver stars, she and her La La Land team won big, taking home six awards and breaking a record for most Golden Globes won by one movie. Stone herself, of course, took home a major honor, winning the Golden Globe for Best Actress in a Motion Picture — Comedy or Musical.
But her night wasn't without one awkward moment that has happened to ALL of us at one point or another, and it only made us love her more.
When La La Land director Damien Chazelle stood up to accept the win for Best Original Screenplay, Stone excitedly went to lean in for a hug…but Chazelle was already mid-smooch with his girlfriend, Olivia Harrison. Ryan Gosling was ALSO going in for a hug from the side, making for an endearingly uncomfortable moment for everyone involved.
Stone immediately noticed the awkwardness of the situation, cringing as she told Chazelle's girlfriend, "That was weird — I'm sorry," before smiling and taking her seat. Even co-star Ryan Gosling chuckled at Stone.
Check out the moment in GIF form, and try not to cringe for all the times you've had the exact same hug fail happen to you.
Oh, girl. It's happened to the best of us — albeit rarely on live TV with millions watching — but that only makes us love her more. It could have been worse, after all. How many of us have inadvertently kissed someone on the lips after a quick turn at a cheek kiss? Yeesh!
Stone still had the best night ever, hug fail and all.