Emma Stone's exposed bra look is making *business sexy* a thing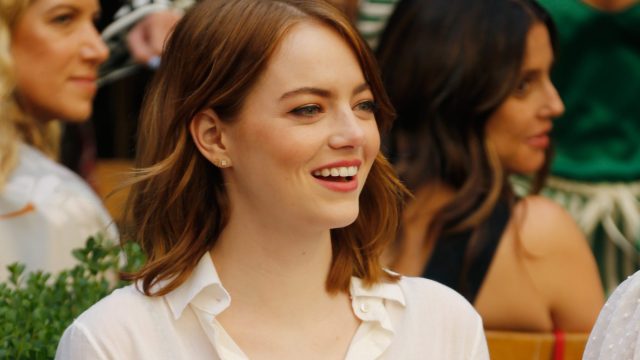 Emma Stone, star of the upcoming musical film La La Land, was photographed at the CFDA/Vogue Fashion Fund Show and Tea yesterday wearing what most would define as "business attire." Emma's no stranger to sporting sexy business wear to events. In 2014, Stone wore a men's suit from Yves Saint Laurent that gathered mixed reviews from fashion police across the country. But her latest "business venture" may be the comeback of the century for Stone in office attire. Keeping to Stone's signature sultry-but-classy look, she added a bit of heat to her fairly basic outfit by slightly exposing her patterned bra.
Some of us would be embarrassed to find out that we're missing a button off our shirt, and have been flashing the entire office throughout the day. Perhaps we would even be disappointed in our frazzled selves for pairing a patterned bra under a semi-sheer white shirt on a busy Monday morning.
But, as she should, Stone wears the look confidently and purposefully, and honestly, we're digging it.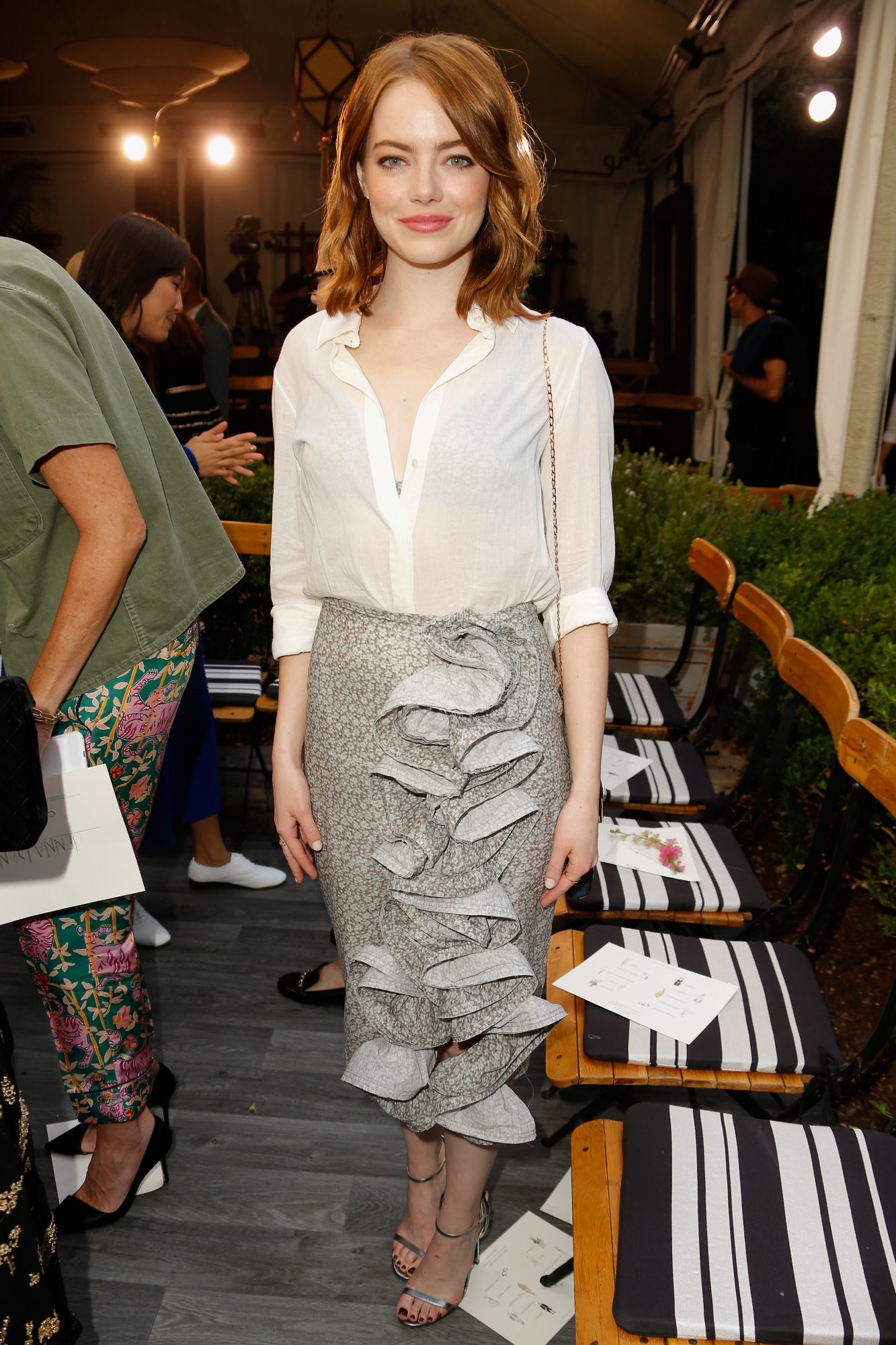 When you look closely, Stone's bra is not just a patterned piece of lingerie, barely visible from underneath her linen button-down. The bra is actually made from the same cloth as the actress' skirt, pulling the entire look together in a very sneaky and cheeky way.
If Stone dared to reveal more skin, she could wear the bra and skirt as a sexy two-piece combo, similar to the matching sets Taylor Swift has been known to rock.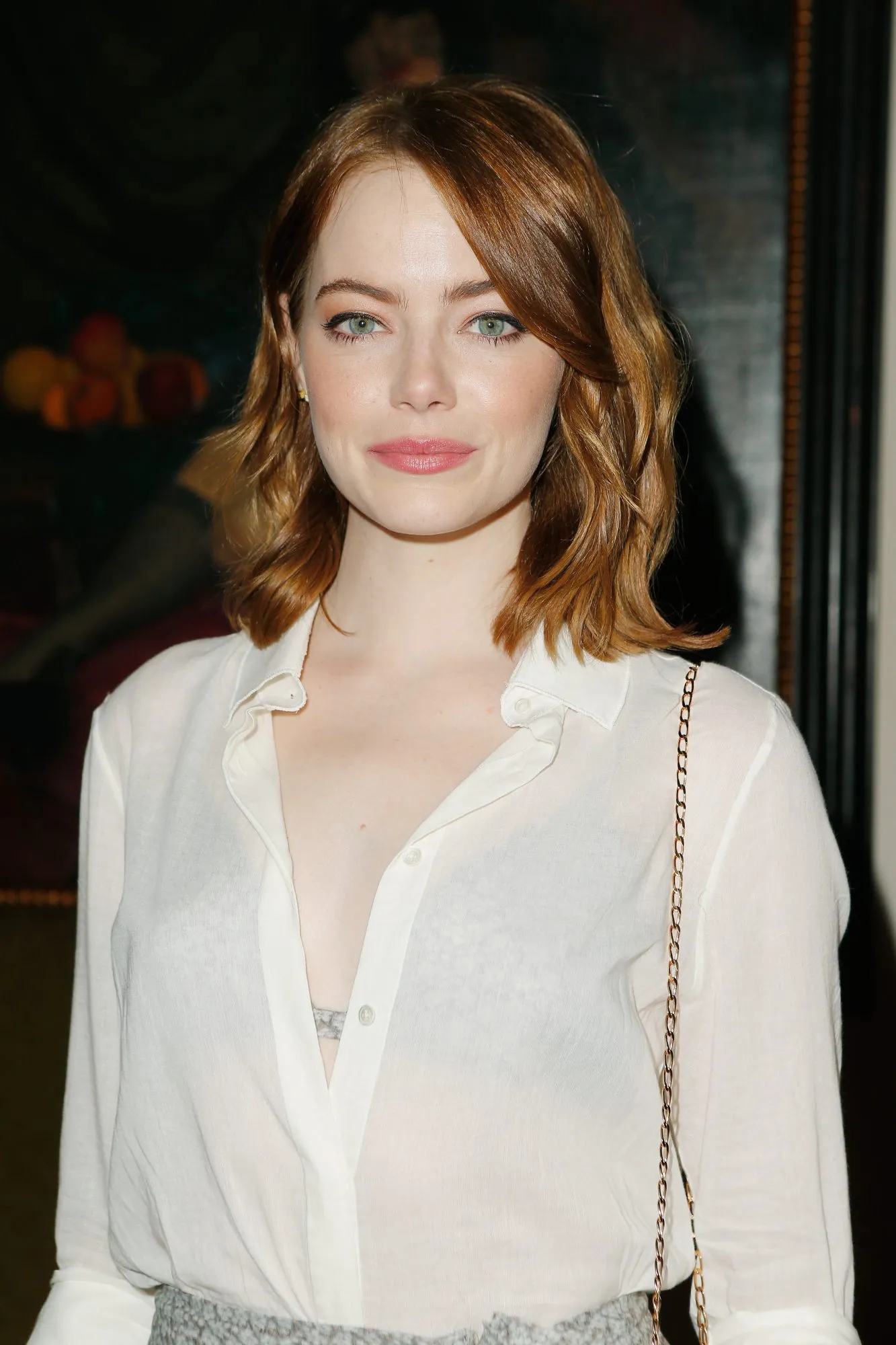 Now, is this peek-a-boo bra something that is office appropriate for the average businesswoman? Perhaps not, unless you love to push the envelope (in a non-secretarial way, of course). But like Stone, a look like this could be worn to a classy night out with friends, or could be fashioned from your existing business attire to attend a date after work.
If you don't happen to own a bra and skirt that were designed to go together – because most of us probably don't – try this look with solid colors like basic black, or spice it up with a dark burgundy. Own your professionalism in the sexiest way possible, and like Stone, you're guaranteed to turn heads.