Can we please talk about Emma Stone in a STUNNING belted black dress at the "La La Land" premiere?
Actress extraordinaire Emma Stone manages to steal our hearts again and again. Whether she is sharing memories about her first job in Los Angeles (hint: it involves dogs), or remaining incredibly mature when it comes to her ex-boyfriend Andrew Garfield, Emma Stone makes us want to embrace her in a warm hug.
And let's not forget: Emma Stone is known for fabulous style!
Emma looked drop-dead gorgeous at the Denver Film Festival. She was there for the premiere of her new film La La Land. (The film is receiving tons of Oscar buzz.) She paired her signature deep red lipstick with a sweeping Chanel dress for a look that manages to be both glamorous and a bit retro, perfect for the premiere of her new musical: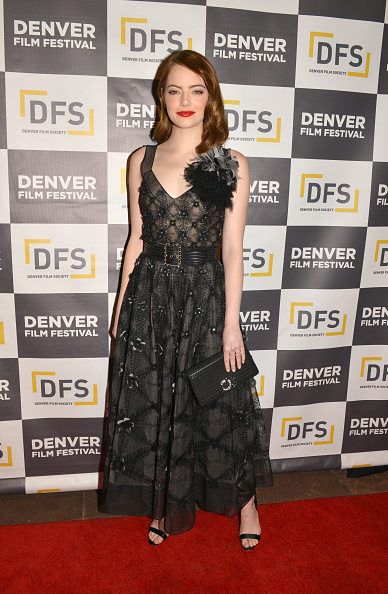 We adore the thick black belt Emma added; it jazzes the look up slightly with texture without taking away from the dramatic color.
Emma Stone would grunge up the look later that night with a black leather jacket: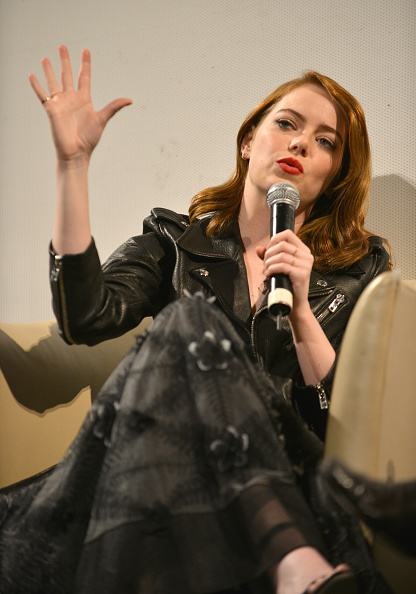 Only Emma Stone could pull off such a fun pairing!
La La Land, for those of you don't know, is a film set in modern-day Los Angeles but styled as a classic Hollywood musical. Yes, that's right, a musical. And it stars Emma Stone and the hunk of all hunks, Ryan Gosling. (Swoon!)
The film follows jazz pianist Sebastian  (Gosling) and aspiring actress Mia (Stone) as they try to make their way in Hollywood and fall in love with each other over a series of chance encounters.
Doesn't it sound adorable? And check out the trailer:
https://www.youtube.com/watch?v=0pdqf4P9MB8?feature=oembed
Director Damien Chazelle praised Emma's performance in La La Land:
"Obviously it was a big swing to do an original musical where she'd have to sing and dance and the whole gamut on-screen. But Emma just has that presence. She's a great comedienne and also can be tremendously moving. She can play every single register.
We all know the "presence" Chazelle speaks about. Emma Stone has it in spades. And we can't wait to see this movie and sing (perhaps literally) even more praises for Emma Stone!