Of course Emma Roberts can pull off ruffle underwear and a Grateful Dead T-shirt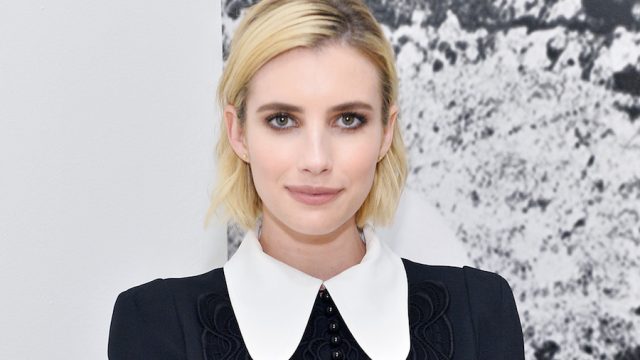 Let it never be said that Emma Roberts was afraid of a look.
While the 26-year-old actress has made waves for turning simple white tops and jeans into non-basic outfits and also for her bad-girl approved needlepoint purse, this may qualify as her most head-turning fashion statement yet. Sure it's a little confusing, especially when you consider the fact that she's rocking the tiniest of tiny shorts on the first day of fall. But regardless, Roberts' funky outfit is peaking our fashion interests. It's fabulous.
A rose-printed Grateful Dead T-shirt by Junk Food Clothing constitutes the base of the quirky look, with the sleeves pushed up and the front tucked into her tiny shorts. The ruffled jacquard print shorts, designed by Aussie brand Alice McCall, are quite the stunners.
C'mon, there's no denying those shorts are killer, even if you'd never actually wear them yourselves.
Not to detract from her punchy short-shorts (or are they really more bloomers?), Emma finished off the ensemble with a pair of bulky Birkenstock sandals. A bright fuchsia lip and a softly textured lob make up the added beauty touches to her already compelling look.
If you've been keeping tabs on Emma's style (and we have), you'll note that her celeb styling team, sisters Brit and Kara Smith of Elkin Style, have been keeping her clad in swag just as spicy as she is. Which is to say that her looks have been jam-packed with personality, pizzazz, and just a *pinch* of sass. This is Emma Roberts we're speaking of, after all.
Team Elkin has always gotten Emma's style spot-on, and we love to watch her sartorial viewpoint broaden. Especially when it means serving up funky-fresh outfits like this one.